We loved Gizzae at the Chicago Music Awards, & we get to jam with them again at the Taste of Polonia Festival.
Gizzae Reggae Band
GENRE:  Reggae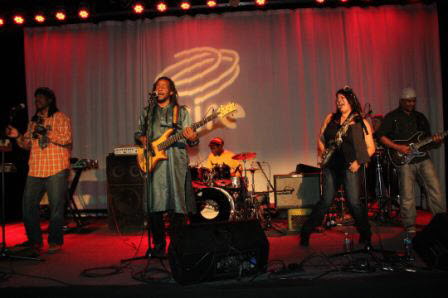 Hailing from the beautiful Caribbean island of Dominica, the Ancient and Holy Lands of Ethiopia, comes the award winning reggae music of Gizzae.
Rocket, Ruphael, Clem, and Evans have been playing for crowds for over 30 years! Their musical experiences have collectively earned them Grammy® awards, Chicago Music Awards and they have opened for some of the biggest names in Reggae. They have also recorded and played professionally with such acts as:
Ziggy Marley, The Rolling Stones, Bruce Springsteen, Third World, Toots and Maytals, Burning Spear, Carly Simon, The Talking Heads, Rita Marley, Judy Mowatt, Chachi, Michael Black, Moja Nya, Dallol, Rude Beat Society, The Mighty Baron of Trinidad, Bell Combo and many others.
Working and playing with such a vast array of musical styles and talents has enabled Gizzae to create a unique blend of Roots Reggae.
Gizzae's brand of reggae is always backed with strong guitar solos and riffing, warm pads and ambient vibes from the dual keyboardists.
Some songs are heavily influenced by Soca and Calypso and other genres such as jazz and even rock. Just when you think you've heard everything Gizzae has to offer, the band instinctively and seamlessly transitions into blues reggae to satisfy the keyboard and guitar solo fans.
Formed in 1992 after the breakup of Dallol (Ziggy Marley's Touring Band) and Moja Nya (New York), Gizzae soon became a fan favorite in the Chicago and Midwest reggae scene. A Sunday night staple at the fledgling Wild Hare, fans started to come out to hear this new reggae band in force and 19 years later, they still rock the house.
If you like live jams and wicked solos, come dance the night away with Gizzae!