Goranie, or favorite folk music band, will play on the World Music Stage at the 2014 Taste of Polonia Festival.
→ Goranie Folk Band
→ DATE: Friday, August 29, 2014
→ TIME: 7 pm
→ STAGE: World Music Stage
GENRE:  Folk Music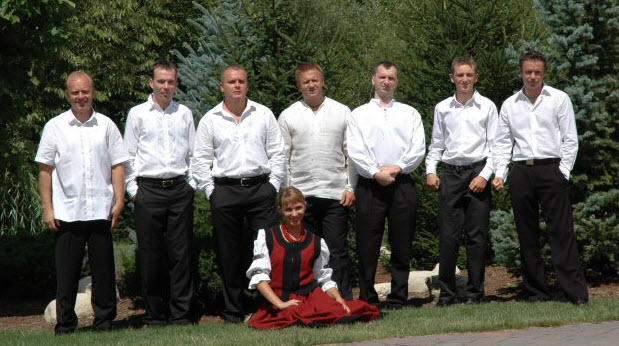 Based out of Chicago, Goranie plays traditional folk music with a gypsy trend. Their songs come from a variety of Eastern European countries and emanate an enormous amount of energy.
The following is from Goranie Facebook:
Members
Prym I- Maciek Lesniak
Prym II- Marcin Lesniak
Spiew – Miroslawa Sojka-Topor
Akordeon- Jan Krol
Kontrabas – Janusz Lesniak
Altowka Wegierska – Andrzej Gasienica-Nizniok
Altowka Slowacka – Ryszard Gruszka
Cymbaly – Krzysztof Zubek
Góranie- to grupa ludzi z pasją i miłością do muzyki. Gatunek tej muzyki jest dość specyficzny, bo z jednej strony prosty, ludowy, a z drugiej wymagający wielkich umiejętności i wirtuozerii. Aby podołać wymogom tego gatunku i wykonywać go w odpowiedniej formie, nie wystarczą tylko umiejętności-ogromnie ważne jest pochodzenie ludzi którzy go uprawiają. Wszyscy członkowie zespołu Góranie to ludzie Tatr i właśnie to miejsce urodzenia ma ogromny wpływ na formę i kształt muzyki jaka powstaje w ich rękach.
Będąc w większości przyjaciółmi przez wiele, wiele lat, zbudowali jako grupa,silny zestaw instrumentalny z niekończąca sie ilością repertuaru. Na początku istnienia nikt nie myślał o nazwie zespołu. W momencie gdy zaczęły powstawać nagrania i posypały sie zaproszenia do koncertów na ważnych scenach (2007 z Waldemarem Malickim w Chicago Orchestra Hall czy tez duża ilość koncertów z Paderewski Symphony Orchestra) zaistniała potrzeba formalnej nazwy. I tak, samo pochodzenie tych ludzi rozwiązało wątpliwości a dziś nazwa Góranie rozpoznawalna jest po obu stronach Atlantyku.
Zespól ma w swoim dorobku muzycznym cztery płyty nagrane na przestrzeni 11 lat, a już gotowe jest nowe nagranie z kilkunastoma doskonale zagranymi i zaśpiewanymi utworami. Wszystkie te płyty zawierają muzykę pochodząca z terenów górskich wschodniej Europy lub wywodzącą sie z tradycji cygańskich. Jeden z albumów to muzyka czysto Podhalańska-góralska, z którą przede wszystkim utożsamiają sie wszyscy członkowie zepołu Góranie.
W nowym nagraniu zaskoczyć może rozmiar grupy i nowe kolory instrumentalne. Nie było to łatwe, bo muzyka jest wymagająca, a duży skład to dodatkowo więcej pracy. Same jednak nagrania dowodzą, że ta praca
warta była zachodu.
Góranie grając swoja ulubiona muzykę wkładają w nią dużo serca i zaangażowania, a równocześnie bawią sie nią, przez co nabiera ona nieopisanej lekkości. Jest to muzyka wolnych ludzi, wyjęta z ram ograniczeń muzycznych. Wykonują ja tak, jak sami to czują, przez co nabiera ona swoistej indywidualności.