Taste of Polonia Festival Media, Press Release & Kit
---
The Taste of Polonia Festival encompasses the Copernicus Center, outside grounds, and surrounding streets. The festival includes non-stop multi genre LIVE MUSIC and entertainment on four stages, a variety of Polish & non-Polish food, cultural events, dance events, kid's activities, a casino, and much more fun for all ages.  The Taste of Polonia Festival has taken place every Labor Day Weekend since 1980. It is the largest Polish festival in the USA. It is also the oldest "Taste of" festival in Chicago-land, even preceding "Taste of Chicago." 
---
---
---
The festival is also a fundraiser. Proceeds of the festival benefit the Copernicus Foundation, a nonprofit 501c(3) orgainization.   The Copernicus Foundation underwrites and sponsors numerous performing arts groups, community events, and other local nonprofit organizations of the Northwest side of Chicago.
---
President Obama @ minute 1:25 on Jun 4, 2014
"… and every summer, we celebrate the Taste of Polonia, with our kielbasa and pierogies, and we're all a little bit Polish …" (Applause.)[source www.whitehouse.gov]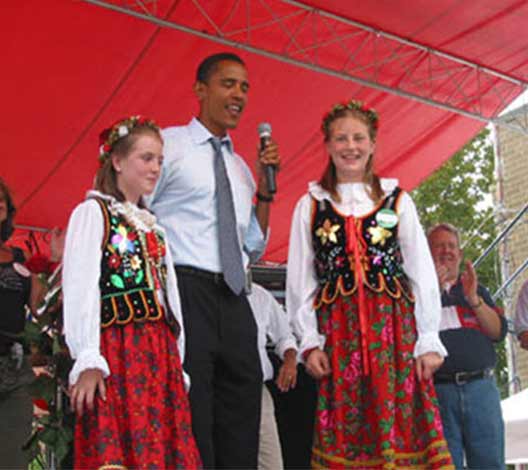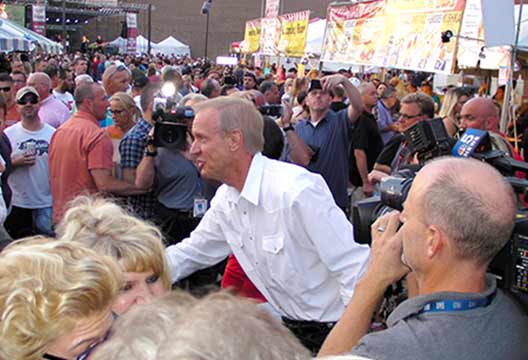 Governor & Mrs. Bruce Rauner enjoy the Taste of Polonia Festival 2016
Articles & Media on the Web – Taste of Polonia Festival
Learn about the Copernicus Center & Foundation:  Former managing director, Gregg Kobelinski, is interviewed by CAN TV.
Great topics about:
Center & Foundation history

Historic Theater

Community involvement

Taste of Polonia Festival on Labor Day