O Ela –  formerly Chłopcy z Placu Broni, our second band from Krakow, Poland won the hearts and charts with their album "O! Ela."  This soft rock band is known for their love songs and patriotic ballads.
→ O ! Ela !
→ DATE: Saturday, August 30, 2014
→ TIME: 9 pm
→ DATE: Sunday, August 31, 2014
→ TIME: 7:30 pm
→ DATE: Monday, September 1, 2014 ~ Labor Day
→ TIME: 6:30 pm
→ STAGE: World Music Stage
Genre:  Soft Rock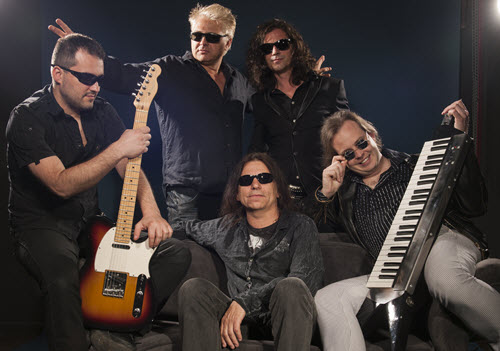 The legendary founder of this band, Bogdan Łyszkiewicz, was known as the Polish John Lennon both for his appearance and approach to life.  He tragically died in a car accident in June, 2000; but the band carries on his legacy of love songs with their new name, O ! Ela !.  
The band plays love ballads and patriotic songs above all.
__________
Legendarny założyciel tego zespołu, Bogdan Łyszkiewicz, był znany jako polski John Lennon, tak ze wzgledu na swoj wygląd, jak i podejście do życia.
Zginął tragicznie w wypadku samochodowym w czerwcu 2000 roku. Zespół kontynuuje swoja dzialalnosc pod nowa nazwa: O! Ela!.
Zespół znany jest przede wszystkim z ballad miłosnych oraz piosenek patriotycznych.
O ELA – SKŁAD ZESPOŁU → BAND MEMBERS:
FRANZ DREADHUNTER

WOJTEK NAMACZYŃSKI

DARIUSZ LITWIŃCZUK

ADAM DRZEWIECKI

PIOTR CZERWIŃSKI

MACIEJ ŻOLNA
O Ela Dyskografia:
* O! Ela (1990)
* Krzyż (1991)
* Kocham Cię (1993)
* Piosenki dla dzieci od lat 5 do 155 (1994)
* Uśmiechnij się! (1996)
* Gold (1998)
* Polska (2000)
* Gwiazdy spadają z nieba (2000)
* The Best – Kocham wolność (2004)
* Gwiazdy polskiej muzyki lat 80. (2007)
[source: archiwumrocka.art.pl]
O ! Ela ! Social Media