2019 SPONSORS
Our festival fundraiser would not be successful without the generosity of wonderful sponsors. Please visit and support them.
All logos and labels are linked to the 2019 Sponsors websites or Facebook pages.
—–

SUPPORTING 2019 SPONSORS

—–
ALL of the following businesses and organizations listed below are linked to their website or Facebook page
Please visit and support the sponsors that supported the Copernicus Foundation at the Taste of Polonia Festival 2019.
To Be Announced – Under Construction ☺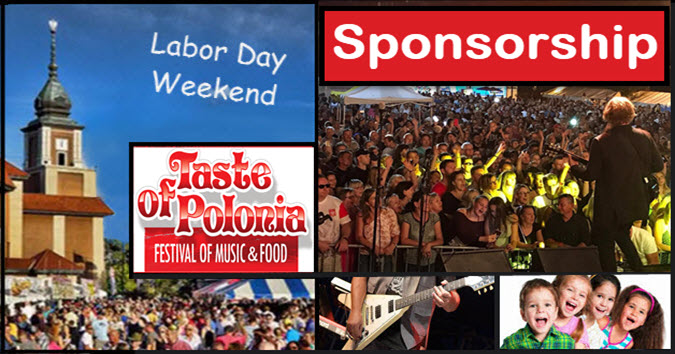 Is your business interested in becoming a 2019 SPONSOR or ADVERTISING during our annual Taste of Polonia Festival?
Proceeds of the Taste of Polonia Festival benefit the nonprofit work of the Copernicus Foundation
The Copernicus Center is supported by the Copernicus Foundation. The Foundation was chartered as a nonprofit organization in July 1971 to serve the metropolitan Chicago area as a major civic, cultural, educational, recreational and entertainment resource.  The Center has been serving Chicago since 1979.
The Foundation is supported primarily through donations by Chicago's Polish population and this annual fund raising event.  However, the festival also gives the board an opportunity to highlight Polish Culture through: Classical Music, Folk Dancing, Tourism Films and other cultural events.
The Foundation serves the community by supporting MANY other nonprofits and community organizations. In addition, much support is given to Performing Arts, Cultural events, and Community events. Find out more at the page "About Us." To see a partial list [only PUBLIC events submitting info to our website] of Foundation underwritten  events, click HERE.
Address: Copernicus Center, 5216 W Lawrence Ave, Chicago IL 60630  ~  See CopernicusCenter.org
♥  Thanks for your support!