BiG SUiT
GENRE:  Classic Rock (Talking Heads tribute)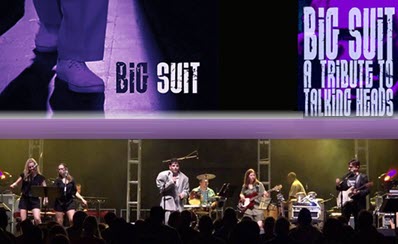 BiG SUiT is a special tribute for Talking Heads fans. They are a Chicago-based collective of nine musicians.
Frontman Jason Krause brings an astonishing take on David Byrne. From the eye-catching and flamboyant routines of dancer/singers Jennifer Hall & Jessica Hornsten to the incredible percussion and afro-celt rhythm section of Phil Brines, Janis Wallin, and Megan Thomas, this Tribute to Talking Heads is the real deal. Rounding out the personnel are Paul Mutzabaugh & Cash Michaels on keyboards; with all of the "SUiTS" under the direction of Steve Kikoen, guitarist for BiG SUiT and founder/guitarist/singer of Deacon Blues. Guest artists include Chicago world percussion phenom Kalyan "Johnny Bongo" Pathak, Chicago drum icon Larry Beers, and Minneapolis drum legend Austin Lee. This funk–rock ensemble of stellar musicians offers up a truly inspirational, Once In A Lifetime connection. 
BiG SUiT will play hits like:
Love → Building on Fire, Psycho Killer, Uh-Oh, Love Comes to Town, Take Me to the River, Found a Job, Life During Wartime, Heaven, Memories Can't Wait, Burning Down the House
Learn more and follow BiG SUiT at:  Website  •  Facebook

---
Taste of Polonia Festival Tickets
Admission: $15 ~ Kids 12 and under are FREE.
NEW in 2022 → 4 DAY PASS
---
◄ Back to Schedule
Proceeds of the Taste of Polonia Festival benefit the nonprofit work of the Copernicus Foundation, a 501(c)3 nonprofit organization. Thank You for your support! Learn more about our nonprofit at

THIS LINK.
---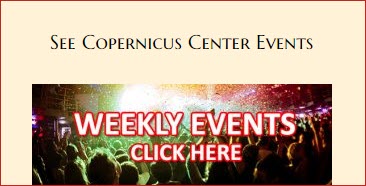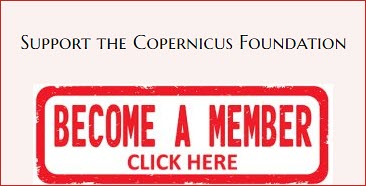 ---