Campanella Children's Choir
We are thrilled to have the gifted Campanella Choir perform on Saturday at this year's Taste of Polonia Festival 2022.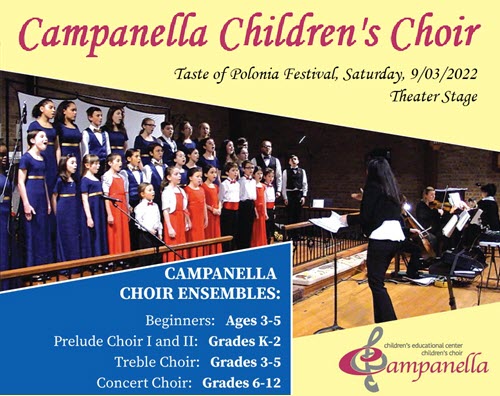 For 20 years Campanella Choir lead by their Artistic Director, Marianna Kosaya, helps regulate a busy intersection of cultural, ethnic, social, and heritage torrents within a diverse community of Chicago suburbia. As the choir grew from a small group of singing toddlers to an award-winning choral ensemble, it became the core of Campanella Educational Center, with a main goal to help children find and develop their artistic individuality thru music and teamwork.
As part of Campanella's "Unite Thru Music" program, students from diverse cultural backgrounds learn and grow together in a collaborative and stimulating creative environment. At Campanella, children perform songs in many languages – English, Russian, Spanish, French, Czech, Yiddish, Italian, German, Polish, African Bemba and Xhosa, and more, and from many cultures. It teaches them to understand, support, and accept each other's differences while working collaboratively as a team.
Campanella Concert Choir is a regular participant of National Heritage Festival since 2006. It has achieved the highest ranking at the Festival of Gold series in 2016, 2012, 2011 and 2010, won a Gold Medal in 2009 and 2008. In 2012 Campanella Children's choir made its Carnegie Hall debut as part of John Rutter's "Mass of the Children" performance.
On June 7th Campanella Children's Choir traveled to New York City to participate in the 2019 National Children's Festival Chorus at Carnegie Hall! The excitement of performing on the world-renowned Ronald O. Perelman Stage was unbelievable. The 2019 National Children's Festival Chorus at Carnegie Hall was arranged by Manhattan Concert Productions and brought several choirs from across the country for their "Turn the World Around" program with the goal of singing as a whole and spreading messages of hope, unity and positivity through music. The "Turn the World Around" was a festival that brought these choirs together, showing that despite the differences, they could still all work together to make something beautiful.
DO YOU LIKE TO SING? Registration is no open for the 2022-2023 Season. Learn more HERE.
Campanella Choir Links:  Website   ~   Facebook

---
Taste of Polonia Festival Tickets
Admission: $15 ~ Kids 12 and under are FREE.
NEW in 2022 → 4 DAY PASS
---
◄ Back to Schedule
Proceeds of the Taste of Polonia Festival benefit the nonprofit work of the Copernicus Foundation, a 501(c)3 nonprofit organization. Thank You for your support! Learn more about our nonprofit at

THIS LINK.
---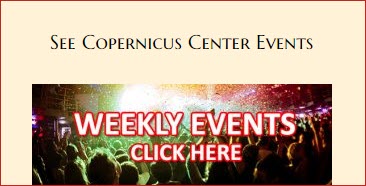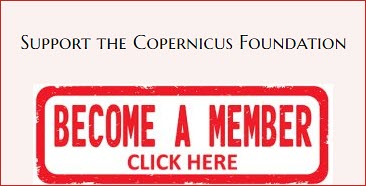 ---