Hairbanger's Ball
GENRE: 80's Rock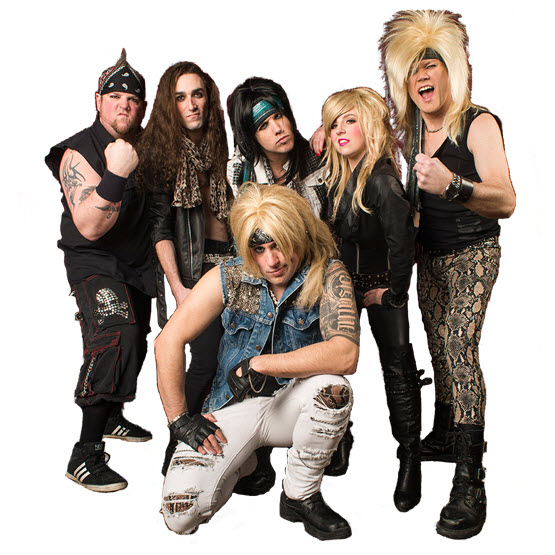 30 years ago, bands like Bon Jovi, Poison, Guns 'N' Roses and Motley Crue were selling millions of records and playing sold out concerts all over the world. Today, one tribute band has tapped into the nostalgic energy of the "Decade of Decadence" like no other. They call themselves Hairbanger's Ball.
Hairbanger's Ball was established out of Chicago in 2001. What started off as a "What If" idea quickly turned this band into one of the most sought after "80's Hair Rock Tribute Bands" in the United States. Performing over 150 shows a year for 13 years says it all. Their show is in high demand for club venues, private parties and corporate events. This band has even been named "Best Rock Band" by the public in their home town of Chicago.
What can you expect when seeing Hairbanger's Ball? A high energy show that does not skimp out on the music. Being a 6 piece band, with both powerful male and female vocalists, nothing is left to be desired when listening to and watching this band put on a show.
Hairbanger's Ball appeals to a wide range of people. They deliver a true representation of being at a rock concert in the 1980's. Hairbanger's Ball can bring back a memory of a rock concert someone saw in 1985 and also bring the youngsters the experience of a rock concert they were just too young to see.
Hairbanger's Ball has performed sold out shows in many cities across the United States. Chicago, New Orleans, Las Vegas, Minneapolis and Nashville just to name a few. They have performed at high end corporate events for such companies as AOL, The Phoenix Open, KIA Motors, Miller Brewing Company, The United States Armed Forces and many more. They have also made many peoples Birthdays, Weddings and Fraternity parties an event to remember. To book the band for YOUR next event, simply contact our booking agent, Joe Valentino, at 317.696.0399, or shoot him an email at, [email protected].  [Source:  click here]
HAIRBANGER'S BALL BAND MEMBERS:
Sakk Wylde – Vocals, Keys
Kitty Monroe – Vocals, Keys
Jeff Jackson – Guitars, Vocals
Kidd Khaos – Drums
Tommy Coxx – Bass, Vocals
Rikki Rhoads – Guitars, Vocals