KOMBII
GENRE:  Pop-rock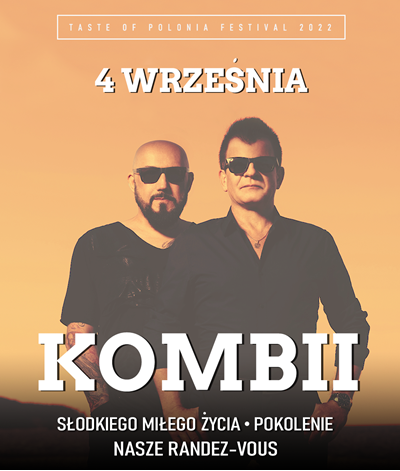 KOMBII – Legenda polskiej muzyki rockowej na koncercie w Chicago!
Już 4 września podczas Festiwalu Taste of Polonia usłyszymy największe przeboje zespołu Kombii, które towarzyszą fanom od 40 lat.
KOMBII – to kontynuacja działalności jednej z najpopularniejszych grup polskiego pop rocka. Od 2003 roku tworzą nowe przeboje takie jak "Pokolenie" czy "Awinion" wrócili na szczyty list przebojów w Polsce.
Zespół KOMBII powstał wiosną 2003 roku z inicjatywy trzech członków zespołu Kombi: Grzegorza Skawińskiego, Waldemara Tkaczyka oraz Jana Pluty. Z różnych przyczyn nie został zaproszony do współpracy Sławomir Łosowski (czwarty założyciel Kombi). Dwa miesiące pracy zespołu zaowocowały nowym programem opartym na znanych przebojach, takich jak: "Linia życia", "Hotel twoich snów", "Nasze randez-vous", "Kochać cię za późno", "Nie ma zysku", "Black and white" w nowych aranżacjach.
W 2006 roku Grzegorz Skawiński, Waldemar Tkaczyk i Jan Pluta obchodzili 30-lecie pracy artystycznej. W tym czasie, dzięki sprzedaży 145 tys. płyt, album "c.d." pokrył się podwójną platyną, która wręczona została podczas Festiwalu Jedynki w Sopocie, gdzie KOMBII zagrało recital pod hasłem "Pokolenie KOMBII". Kolejne wyróżnienie, to nagroda za najlepszą płytę "c.d." podczas Gali Eska Music Awards.
Obecnie zespół cały czas koncertuje, a w rozgłośniach radiowych królują ich "stare" jak i "nowe" przeboje. 
LINKS:  Website  •  Facebook  •  Instagram  •  YouTube

---
Taste of Polonia Festival Tickets
Admission: $15 ~ Kids 12 and under are FREE.
NEW in 2022 → 4 DAY PASS
---
◄ Back to Schedule
Proceeds of the Taste of Polonia Festival benefit the nonprofit work of the Copernicus Foundation, a 501(c)3 nonprofit organization. Thank You for your support! Learn more about our nonprofit at

THIS LINK.
---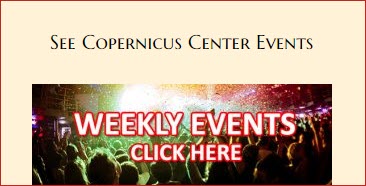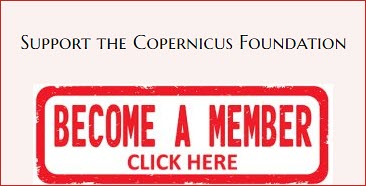 ---