Akwareal
Band Genre:  Street Pop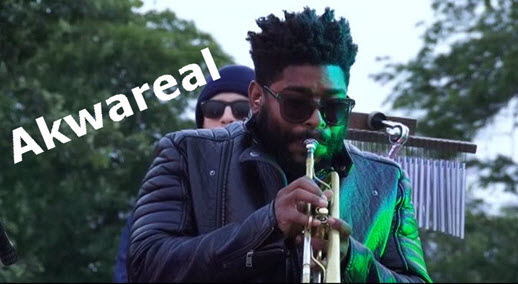 Chicago-based project established in 2014 by DJ A-Dub.
The band's debut album "Lust" was highly acclaimed success both locally and internationally.
"24ourMusic" wrote: "The record is orchestral, genre-bending, and original. The production itself is innovative, clean sounding, though not by way of a borrowed pop-template. Awareal does much to realize the initial mood set out by, and local to the feeling of lust in all of its iterations. For a debut release to so thoroughly stand by a sound and aesthetic is an astounding achievement. (…) Listeners will surely be asking for more sometime very soon."
The group consists of artistic duo A-Dub (Art Wnorowski) & Yoshi (Gosia Pieniazek -Wnorowski) in collaboration with some of Chicago's hottest musicians: Frank Catalano on saxophone (famed for laying tracks for artists such as J.Lo or his latest Billboard top-charting release with Smashing Pumpkins' Jimmy Chamberlin, Corey Wilkes on trumpet (called next Miles Davis, trumpet virtuoso & jazz scholar), Jonathan Maplewood on guitar (Johnny Comes Late), Wes Restless – singer & MC – leader of Chicago-based "The Jordan Years": and Sergiusz "Sergio" Zgrzebski – Mr. Funk, known for his latest band Wishing Well and his groovy vibe.
Keep an eye out for their second album, which will be recorded during the 2016 Summer Season.
Band Link:  www.facebook.com/akwareal