Paderewski Symphony Orchestra Sing Along
CHOIR Paderewski Symphony Orchestra  invites you to sing together!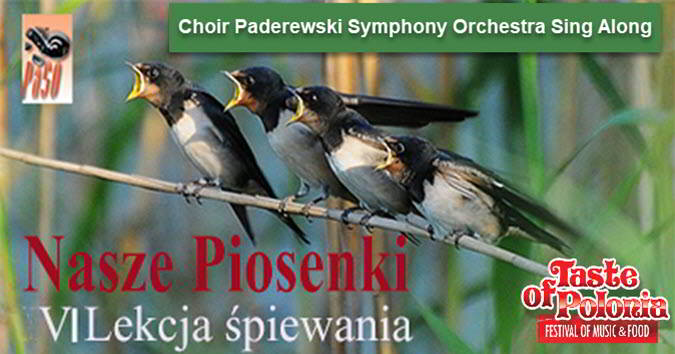 ---
A concert titled "Our Songs" – a sixth singing lesson at the Taste of Polonia Festival in Chicago Sunday, 09/01/2019 – 2 pm 
---
In the 7th edition of the concert "Our Songs" we will sing favorite titles for singing in each group to include: " White R ό that," "Hey Falcons,"  "Hey, hey, Lancers!", "Personnel ό bred", "Infantry," "The Lancers Have Come," "Mansion Michl," "It takes fast life", "Red Maki, "Palacyk Michla"  along with your favorite military, insurgent, partisan, traditional, and national songs.  We have thousands of songs in our songbook!
So let's sing – whenever we have the opportunity, according to the principle of "singing everyone can", and – to make our common song sound beautiful – let's remember melodies and lyrics, and practice choruses and verses. 
The lyrics will be displayed on the screen, help Chor PaSO to sing
Accompaniment and arrangements: Bartlomiej Ciezobka and Marek Lichota
---
CHOR Paderewski Symphony Orchestra zaprasza do wspόlnego śpiewania!
KONCERT  p.t. "Nasze piosenki"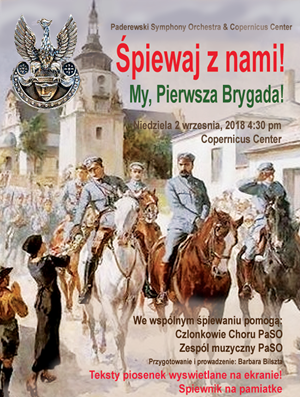 Niedziela, 09.01.2019 – 2 pm – teatr – Taste of Polonia Festival
NASZE piosenki – wojskowe, wojenne, powstańcze, ułańskie, partyzanckie, tradycyjne, narodowe – tysiące piosenek w naszym domowym śpiewniku!
Śpiewajmy więc – gdy tylko mamy okazję, zgodnie z arcysłuszną zasadą "śpiewać każdy może", a – żeby nasz wspόlny śpiew brzmiał pięknie – przypomnijmy melodie i teksty, poćwiczmy refreny i zwrotki. 
W 6-tej edycji koncertu "Nasze piosenki" zaśpiewamy ulubione tytuły do śpiewania w każdym gronie: 
m. in. "Białe Rόże", "Hej Sokoły", "Hej, hej, Ułani!", , "Kadrόwka", "Piechota", "Przybyli ułani", "Pałacyk Michla", "Upływa szybko życie", "Czerwone Maki", "Palacyk Michla" oraz wiele innych, w tym Twoja ulubiona!!!
Teksty będą wyświetlane na ekranie, w spiewaniu pomoze Chor PaSO
Akompaniament i aranzacje: Bartlomiej Ciezobka i Marek Lichota
---
PASO Links:   Website    ~    Facebook
Paderewski Symphony Orchestra (PaSO)
5844 N. Milwaukee Ave. Suite 201
Chicago, IL, 60646
P: (773) 467 9000
.PaSO e-mail [email protected]
---
Proceeds of the Taste of Polonia Festival benefit the nonprofit work of the Copernicus Foundation, a 501(c)3 nonprofit organization. Thank You for your support! Learn more about our nonprofit at
THIS LINK
.
---
---
---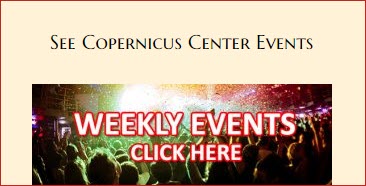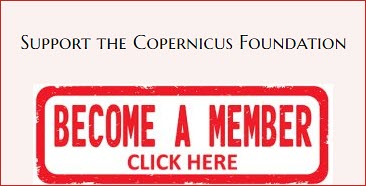 ---
---
---
Back to Schedule