Children's Book Reading by Robert Walanka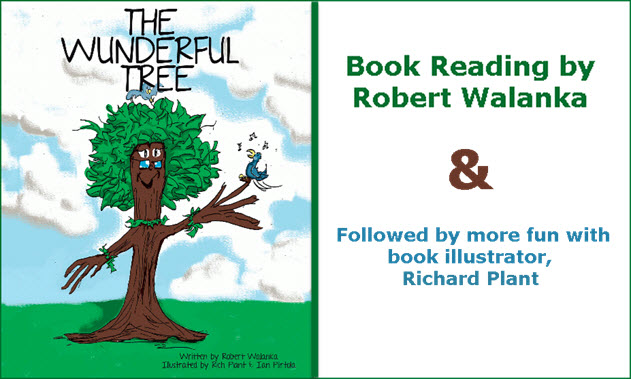 → Krakus Kid's Stage
Reading to children over many years inspired Robert Walanka to write his own children's books.  His first book, "The Insect King," was well loved.  
His newly completed second book is called "The Wunderful Tree."  Young readers are delighted with this new picture book as a warm gentle changing takes place as the meanies change from bad to good. The illustrator of the book, Richard Plant, is a local artist who has lived in Worth, IL. for the past thirty years.
Mr. Walanka will orally read and discuss his book, "The Wunderful Tree."  A discussion will follow where children can talk about their favorite characters and what they liked.  Mr. Walanka will re-emphasizing the message of how the bad characters changed to good.
Fun with the Illustrator
After the reading,  book illustrator Richard will sets up his trusted easel.  As the children use their own imaginations to create new characters, Richard will draw them . After they have finished with their visual images, the children will then color in their creative images with markers.
It will be an exciting and fun activity for children and all involved. The time sequence will be about 30 minutes per presentation.
If any parents are interested in purchasing the book, both Robert and Richard will sign the book.  However, both promise they will apply no pressure on parents to make a purchase.  A table with the book will be available.