Fox Band offers a great variety to the Festival playing a mix of Rock, Pop, R&B, and Club Hits. 
Fox Band
Genre:  Mix of Rock, Pop, club hits, & more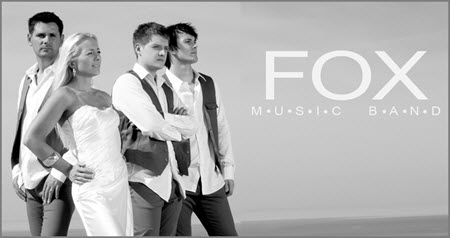 MORE INFO COMING
Fox Music Band has been performing in Chicago since 2002.  The founders are – Agnieszka and Daniel Wasinski.
The band has four albums.  "Chcialbym Ci Powiedziec,"  was released in 2003 and "Gadu Gadu" was released in 2004. In summer 2005 the band released album "Niebieskie lato" with Chicago Marszalek Band.  The song became a big hit in the list of Top 15 at Polish Radio "Wietrzne Radio" 10.80 am and it become The Hit for 2005.  In 2006 the band released another CD, Solo Album (with the exception of two songs borrowed from Zhanny Friske) "Nasza Historia" also was a summer hit, and "Gdzie to Lato" (Zhanna Friske).
In December 2006, Fox was nominated for "Artist of the Year" awarded by the Wietrzne Radio 10.80 am. In January 2007, at the 7th WR carnival, Fox was awarded from the Mandaryny – Marta Wisniewska,
November 3rd, 2007, at club Accent Caffe, FOX had their premier for the song "Nielegalni."  January 26, 2008 at the 8th Ball of Wietrzne Radio, 10.80 am FOX received another award for "Artist of the Year."  This was the second year running that FOX received an award for the Artist of the Year…
In February of 2008, at the Copernicus Center, Fox opened for the "Czerwone Gitary" concert, with an audience of two thousand.  Also in 2008, Fox was invited to Chicago's ABC television program on channel 7.  Host Bill Campbell conducted interviews with Fox band members and they performed two songs for television viewers.
For more band information, email: [email protected]