Lajkonik Polish Song & Dance Ensemble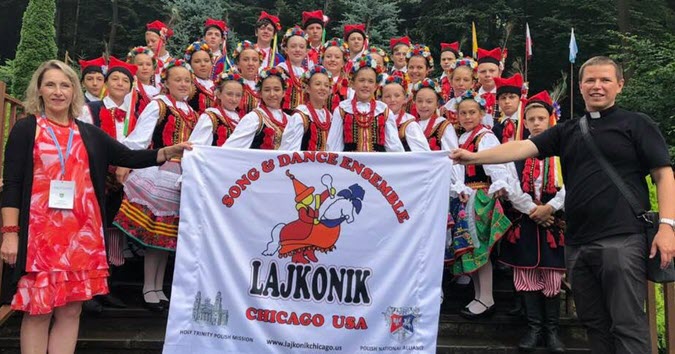 The Polish song & dance ensemble Lajkonik, is a group which focuses on promoting Polish folk culture through artistic dances, passionate songs and colorful performances. Lajkonik's four performing groups present a variety of national and regional Polish dances, which feature traditional dynamic steps and songs sung in the original language. The Lajkonik, which describes a masquerading Tatar warrior on his horse, became a symbol of Poland's victory over the Tatars in 1241, and still plays an important role in the Krakowiak, the traditional dance of the people of Krakow.
Since 1991, the dancers of Lajkonik have promoted Polish folk culture through artful dances and passionate songs. Belonging to the Holy Trinity Polish Mission and under the patronage of the Polish National Alliance Group 3241 the troupe has blossomed from a mere 12 dancers to over 100 members in four different age groups. The passion and dedication of these young performers has garnered them support from an increasing circle of friends, supporters and sponsors. Thanks to their help, Lajkonik can now display several costumes from various regions of Poland.
The Lajkonik dancers have graced many stages including those of the Chicago Public Libraries, the Chicago Cultural Center, the Children's Museum, Daley Plaza, the Taste of Chicago, Millennium Park, Nave Pier and Polish Fest in Milwaukee. Lajkonik has represented the Chicago Polish Community four times at the International Folk Dance Festival in Rzeszow, Poland.
Since 1998 Lajkonik, has presented well-received annual winter concerts. In 2006 Lajkonik celebrated its 15 anniversary with a Gala Concert: "Znaszli ten kraj" – roughly, taking your homeland to heart, which received very enthusiastic reviews. A review of the concert by the Polish daily Dziennik Zwiaskowy described Lajkonik as: "brylantem wsrod polonijnych zespolow folklorystycznych" – "a gem among Polish folk dance groups."
In February of 2007, at the invitation of the Padereski Symphony Orchestra, Lajkonik performed in Stanislaw Moniuszko's famed opera, the Haunted Manor at the Rosemont Theater. In 2009, the group took part in a folk dance festival organized by Polish Folk Dance Association of the Americas at Arie Crown Theater.
In the past year, the group has also performed at Loyola University, for Polish Days at Navy Pier, at Chopin Elementary in Chicago for the inauguration of the Chopin Year, with the Paderewski Symphony Orchestra at an exposition titled "Muzyka Krolow Polskich" – "Music of Polish Kings," at Independence Day Parades in Brookfield and Naperville and at Children's International Day in Naperville.
Through hard work, commitment and perseverance, the members of Lajkonik hope to promote and preserve Polish Culture for years to come.
Here's a recent article about their April 2018 performance at the Copernicus Center.  CLICK HERE (in Polish)