Libido Funk Circus
GENRE:  Dance | Pop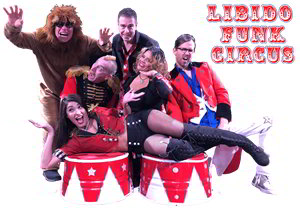 From diehards to brand new fans, everyone seems to be asking the exact same questions about Chicago's premiere dance and party band, Libido Funk Circus:
"Where do they get the energy to do that every night?"
"How many songs do they KNOW?" And our personal favorite…
"How long can they possibly keep this up?"
For those who aren't familiar with LFC's legendary, high-energy shows, here's a peek behind the curtain!
The LFC magic begins with their monstrous set list. Just imagine filling your MP3 player with 10 hours worth of your favorite dance and rock songs, and then putting it on shuffle for an entire night. THAT is what an LFC show is like! Lady Gaga, Bruno Mars, The Jackson 5, Katy Perry, Prince, Cee Lo Green, the Bee Gees, Macklemore, KC and the Sunshine Band, Bon Jovi, Stevie Wonder, Ke$ha, Vanilla Ice, Led Zeppelin, Salt N' Pepa, Britney Spears, AC/DC, P!nk…the music goes on…and on…and on.
While LFC's musical catalog has certainly become their trademark, it's only half of the story. This tireless, seven-piece band is on a quest to entertain at any cost! Did we mention there are THREE dedicated lead vocalists, including one guy and two girls? And all seven band members sing!
Here's the deal…LFC is the best dance band in the Midwest! Don't believe me? Go check 'em out for yourself!
Libido Funk Circus Members:
• Jaysun McBain -lead vocals
• Desiree Starr -lead vocals
• Ashley Rodriguez -lead vocals
• Barely White -guitar & vocals
• Brian "The Captain" Kovacs -bass guitar & vocals
• Dan "Chili" Milligan -drums, programming & vocals
Their song list is too large to post here, but you'll be impressed with their HUGE range in variety of music: 1970's disco, 60's 70s 80s & 90s classic pop / rock / funk, 90's & up country, and more.  Click HERE for the PDF.
REVERBNATION:  http://www.ReverbNation.com/LibidoFunkCircus
TWITTER:  http://www.twitter.com/LibidoFnkCircus
MYSPACE:  http://www.myspace.com/LibidoFunkCircus
BANDCAMP:  http://libidofunkcircus.bandcamp.com/album/roustabouts-debutantes
Listen to their music samples here