Think Floyd USA (TFUSA)
GENRE:  Classic Rock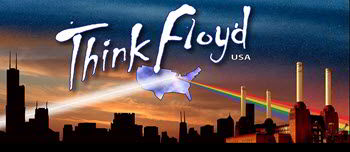 Think Floyd USA is the #1 rated production tribute to Pink Floyd in America! A must see Pink Floyd Tribute show.
Enjoy Pink Floyd with all the sights and sounds you would expect from what Full Throttle Magazine called,
"The best kept secret in the U.S.", as well as, "Absolutely amazing….the best Pink Floyd tribute anywhere."
Singer & Musicians Magazine said,
"You don't have to close your eyes to believe TFUSA is the real thing!"
In 2011 & 2012, they were nominated and awarded Best Pink Floyd Tribute by Chicago's Metromix music magazine by the fans.
Originally started as a Classic Rock band in 1992, under a different name, we are currently celebrating our 10th Anniversary as Think Floyd USA.
Covering music from Piper at the Gates of Dawn through The Division Bell, TFUSA, presents a fresh, exciting, pure rock approach to the music of Pink Floyd that makes the band stand successfully apart from all of the other Pink Floyd tributes. From the pulsing "Run Like Hell" to the soulful lead guitar solo of "Shine On Crazy Diamond"; from the searing vocals in "Great Gig in the Sky" to the grand finale sing-along, "Comfortably Numb", TFUSA weaves their story through nine incredibly talented musicians and an equally dazzling choreographed light show.
TFUSA invites the audiences to sing-a-long and to be part of the show; all the while maintaining the integrity and power of Pink Floyd.  TFUSA satisfies even the most hard core Pink Floyd fan by often performing entire albums along with many "deep-cut" favorites.
Think Floyd USA tours regionally throughout the midwest and the Chicagoland area and has performed at a wide variety of venues including Park West in Chicago, the Surf Ballroom in Clear Lake, Iowa; and the Sandstone Amphitheater in Kansas City, Kansas. Additionally, Think Floyd USA was the featured performance on a Pink Floyd-themed Carnival Cruise to the Bahamas. And, after enthusiastic responses from audiences at Milwaukee's Summerfest, where Think Floyd USA has opened for Dickey Betts, Toto, The Zombies and many others.
Think Floyd USA became the first-ever tribute act to headline the BMO Harris Classic Rock Stage for two consecutive years at Summerfest, called the world's largest music festival.
Official Band web site link: http://www.ThinkFloydUSA.com  ~~  Official Facebook link: HERE