VERA Dance Ensemble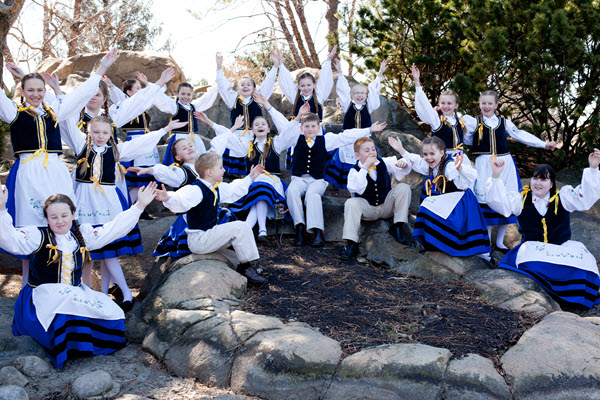 Dance Ensemble VERA from Kolbe School of Polish Language invites audiences to see colorful, enthusiastic, and vigorous performances of Polish dance.
At present, the VERA Ensemble includes about 30 children, divided into two groups. For over ten years, they have been dancing to preserve Polish heritage and to make their beautiful dances and songs more popular among both the Polish and American community in Chicago and suburbs.
Since 2006, the ensemble has been directed by Barbara Kulesza, Ph.D. – a certified choreographer and teacher of Polish traditional dances.
"Dancing, as a specific movement with the music, more than any other physical experience reflects the development of physical, emotional, and educational sphere of our lives. Connecting with traditions of our ancestors' culture gives an uncommon opportunity for improving a child's self esteem and spiritual life as well."
VERA, O NAS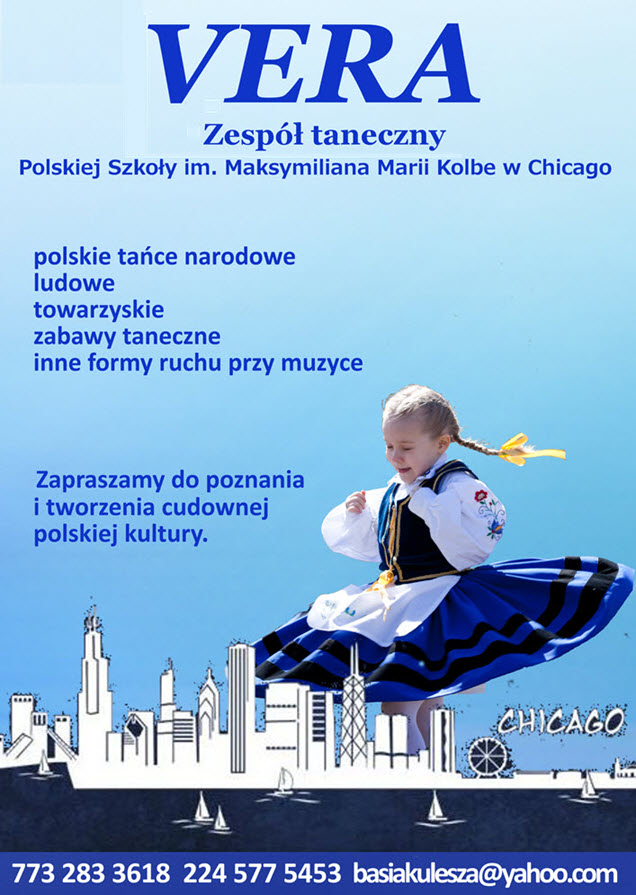 W Zespole Tanecznym VERA śmiech, zabawa, dobry humor towarzyszą zawsze tancerzom, gdy przychodzą w piątkowe popołudnia na zajęcia. Grupa działa w szkole św. Maksymiliana Maria Kolbe w Chicago. W naszym Zespole znajdujemy wiele okazji i naturalnych możliwosci do rozwijania taneczno-wokalnych talentow, podnoszenia swoich umiejętności. Dziewczynki i chłopcy spotykają się z by miło spędzić czas, a przy okazji poznać bliżej kulturę, a także tradycje naszych rodziców i dziadków. Z zainteresowaniem i wielką łatwością poszerzają swoją wiedzę o tańcach polskich, poznają także polskie przyśpiewki oraz obrzędy i zwyczaje ludowe. Dużą radość sprawia im poznawanie gier i zabaw tanecznych, popularnych w ich ojczyźnie.
Pożytecznie spędzony czas przynosi dodatkowe, wymierne efekty, gdy tancerze mają okazję pokazać, co potrafią i zaprezentować się szkolnej, a także pozaszkolnej publiczności. Występy to jeden z najważniejszych czynników inspirujących do jeszcze lepszej pracy i zachęcających do podejmowania nowych wyzwań. Takich okazji w czasie trwania roku szkolnego w Zespole VERA jest bardzo wiele, zaczynając od Dnia Nauczyciela, Dnia Partona Szkoly, poprzez wystepy bożonarodzeniowe, karnawałowe, wielkanocne, okolicznościowe, aż po udział w Paradzie 3-go Maja, czy Dzień Matki i Ojca.
Pozytywne napięcie podczas wystepów towarzyszy także nauczycielce Barbarze Kulesza i rodzicom, bacznie obserwującym popisy tancerzy VERA. Aplauz oraz rytmiczne brawa publiczności już w czasie tańca świadczą o tym, że nasze występy bardzo się im podobają.
Nie moglibyśmy jednak tak wspaniale funkcjonować, rozwijać młode talenty, gdyby nie nasi kochani rodzice. To oni przyprowadzają dzieci punktualnie w każdy piątek na zajęcia, dbają o nasze stroje ćwiczebne i kostiumy na występy, są oddanymi asystentami w sprawowaniu opieki i drobnych zakupach dla naszych wspólnych potrzeb. To dzięki nim czujemy, że robimy coś ważnego, pożytecznego, a przy okazji rozwijamy przyjaźnie, mamy dużo radości i chcemy wspólnie tańczyć i pracować. To rodzice propagują, rozpowszechniają taneczną formę dbania o polskość, zachęcając innych do przychodzenia na nasze koncerty. Bardzo im za to dziękujemy.
Zapraszamy dzieci z Chicago i okolic do naszej grupy (bliższe informacje w sekretariacie szkoły:  773-283-3618
Motto, które nas inspiruje:
Najcenniejszym i najtrwalszym podarunkiem, jaki można dać dziecku jest taniec.
VERA – Zespół taneczny Szkoły im. Św. Maksymiliana Kolbe
Dyrektor Szkoły – mgr Jolanta Zabłocka
Prezes Szkoły – mgr Zofia Mazurek
Choreograf Zespołu – dr Barbara Kulesza
Tel (224)-577-5453, e-mail – [email protected]