Voyage Band
GENRE:  70's & 80's Classic Rock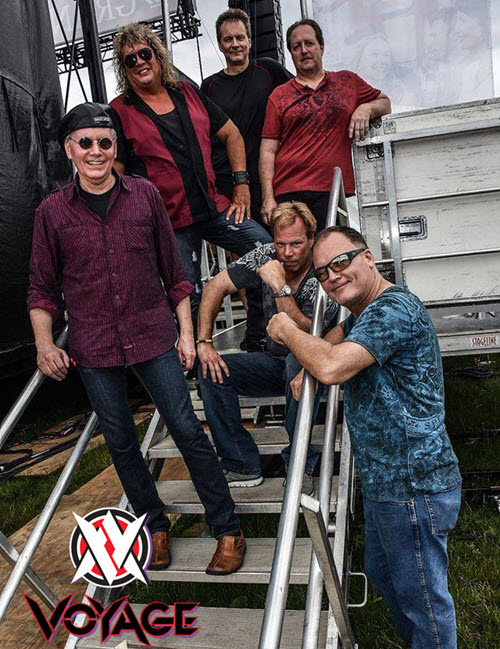 Voyage Band is an experienced Act comprised of six respected and multi-talented musicians.
The audience will enjoy the energy and magic of select Classic Arena Rock covers from the 70's and 80's, performing "live" versions from Artists such as 'Bon Jovi', 'Journey', 'Styx', 'Foreigner', 'Autograph', 'Loverboy', 'Poison', 'UFO' and 'REO' to name a few.
As well as headlining at major venues and festivals including 'Taste Of Chicago', 'Navy Pier', and the 'Arcada Theater', , 'Voyage' has opened for 'Night Ranger', Lou Gramm of 'Foreigner', 'Blue Oyster Cult', 'UFO'( 3 times ), 'Foghat', 'Bachman Turner', 'Queensryche', Steve Augeri of 'Journey', Fran Cosmo of 'Boston', Daryl Stuermer of 'Genesis', Jim Petrik and the 'Ides Of March', and 'The Guess Who'.
They have also been joined on stage by Keith Semple of '7th Heaven', Jimi Sohn's of the 'Shadows Of Night', and TV / Radio Host Jonathon Brandmier.
'Voyage' is the way it was "back in the day" with blazing solo's, huge drums, soaring vocals, seamless transitions and powerful endings; a "true concert experience."  Current repertoire includes Journey, Styx, Foreigner, Bon Jovi, Def Leppard … You get the idea. 
Voyage Band Members
Lead Vocals / Guitar – Joel Stombres

Lead Guitar – Mike Rehak

Lead Guitar – Kevin Willer

Bass Guitar – Larry Mann

Keyboards – Jay Pitcher

Drums – Gordon Siewert
Voyage Band Website  ~~  Voyage Band Facebook
We know you'll love this band.  If you want to book them too ……
Booking Agent and Press Contact
630-284-9112
[email protected]