Alejandro Rowinsky
Genre:  Latin pop, Flamenco, Classical, Tango, Bolero, Latin American Rhythms with electronics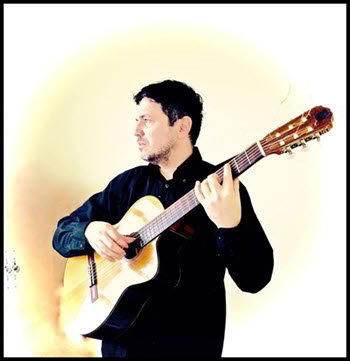 Alejandro Rowinsky, contemporary musician, virtuoso classical guitarist, composer, arranger, Rowinsky fuses classical instruments with electronics to create the perfect blend of the past and the present.
Rowinsky was born in Uruguay, and lived in South Florida, USA  and is of Polish decent.
Over the past 15 years, he has been playing in bands or solo, at concert venues, festivals and grand opening throughout the US. For his solo concerts he performs classical guitar compositions, a versatile performance repertoire covering the Renaissance, Baroque, Classical and Romantic eras. 
In 2016, after an audition, Rowinsky was cast as a Walt Disney World guitarist for the strolling set in Magic Kingdom, Orlando FL, to be a part of the live show "Elena's Royal Welcome.
This year, he was selected to represent his home country Uruguay at the International Festival of Songs (Festival Internacional de la cancion) Punta del Este – Uruguay where he participated along with 20 other musicians/songwriters from Latin America and Europe performing only originals songs. At the Festival, he presented three (3) of his unpublished songs in Spanish language.
Rowinsky's music composition blends the past and the present, multiple genres into his own style a fusion of classical guitar and electronics to create contemporary concert music. His music compositions are featured on prestigious Facebook page with more than 1 million followers Ludwing Van Beethoven.
Highlights of his solo recitals include appearances in:
Artscape Festival Concerts Corpus Christ Church, Baltimore, MD

Holiday Music Festival, Mall of America, Bloomington, MN

Grand Opening Florida Car Marathon, Miami Seaplane, FL

The Double Tree Grand Hotel Miami, FL

Skokie Festival of Cultures, Skokie, IL

International Festival of Songs, Puntal del Este, Uruguay  
Mr. Rowinsky is actively writing and performing and is working on upcoming tours in both Europe and throughout the United States.
Website: https://www.alejandro-rowinsky.com/
Facebook: https://www.facebook.com/ale.rowinsky
Soundcloud: https://soundcloud.com/user-451269040
Proceeds of the Taste of Polonia Festival benefit the nonprofit work of the Copernicus Foundation, a 501(c)3 nonprofit organization. Thank You for your support! Learn more about our nonprofit at
THIS LINK
.
Back to SCHEDULE PAGE