Amy Maniak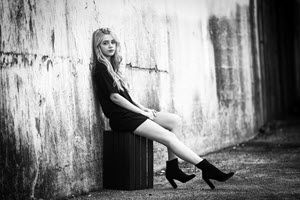 Genre:  Pop, K-pop
Chicago has always been a hub for new music.  It makes sense that one of the newest young pop artists would call Chicago home.
18 year old Amy Maniak is breaking into the scene in her own way. Ever since Amy was young she has always been told not to follow her dreams, that her singing career would never work out. She decided to prove those people wrong. She wants to show people that dreams do come true and that with hard work and passion, anything is possible. She loves K-Pop and is influenced by such artists as BEAST and Apink. She loves the hard work they put into having great music and performances.
A Message from Amy
Hello my name is Amy Maniak, I'm 18 years old. As a child I was always bullied because of how I looked, I was different then other kids. I'm not going to lie it hurt a lot. As years went on it got worse and worse. Then music came along. I know it sounds cliche saying "music saved my life" but in my case it really did. It helped me escape to a world where I could not express myself and be who I want to be and not be judged about it. So I started singing 🙂 When people started finding out they told me to just give up, telling me it would never happen. Them saying this only made me want to try harder. Thanks to them I am where I am today. Today I am a confident yet shy girl who wants to be friends with everybody and put a smile on their faces. I am influenced by K-POP and the hard work they put into their music and performances. As the years go by I'll be working hard on developing and only getting better.
Band Webpage:  http://www.amymaniak.com
Facebook:  https://www.facebook.com/amymaniakmusic/
Instagram:  https://www.instagram.com/amymaniak/
YouTube:  Click here
Twitter:  https://twitter.com/AmyManiak1   – @AmyManiak1
For more information or to book an event:  [email protected]