Jary Oddział Zamknięty – Jary Oz
Genre: Rock
DARMOWE spotkanie z zespołem Jary Oddział Zamknięty – Jary OZ w Annexie w niedzielę 9/04 o 4 PM, Później koncert grupy na scenie na zewnątrz.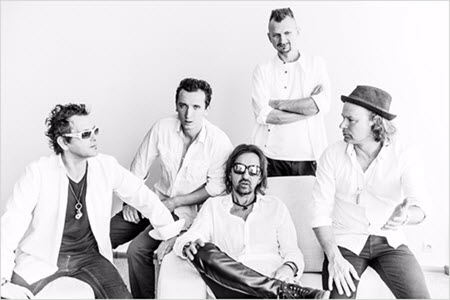 Krzysztof Jaryczewski – muzyk rockowy(gitarzysta, wokalista, kompozytor, autor tekstów) ur w Warszawie 21.02.1960. Nie ukończył X liceum ogólnokształcącego im.królowej Jadwigi w wawie,gdyż zaczął zawodowo grać na gitarze basowej w zespole Jurka Wawrzyniaka Tani Hotel.Po rozpadzie tej foracji razem z perkusistą Jarkiem Szlagowski założył zespół Oddział Zamknięty.Do współpracy zaprosili Wojtka Pogorzelskiego i Pawła Mścisławskiego.Potem dołączył Włodzimierz Kania.Tak powstała pierwsza płyta "Oddział Zamknięty" mająca złoty status.Potem nagrał drugą Eda by Night" zmienionym składzie z Krzysztofem Zawadką i Marcinem Ciempielem i Michałem Coganianu.
Na skutek choroby Jaryczewskiego zespół przestał funkcjonować.Po paru latach wznowił działaność już bez niego. 
Krzysztof Jaryczewski pisał też dla innych wykonawców(min:Lady Pank,Dżem,Artur Gadowski,Wanda Kwietniewska,Timerlane).Nagrał przez parę płyt poza oddziałem.Zespoły JARY BAND,EXCES. 
Od 2014 roku jako JARY OZ zaistniał na sylester z "dwójką",Polsatowska Sylwestowa Moc przebojów, czy festiwal Opolski w 2014 roku. Obecnie promuje swoją najnowszą płytę "Jary OZ" nagraną w gdańskim studio Custom 34 pod wodzą Piotra Łukaszewskiego (IRA,Ptaky,Fuzz). Album dwupłytowy wydał Uniwersal, a trasa promocyjna obejmuje całą Polskę w największych miastach.
ENGLISH →  JARY OZ is the title of the newest album of Krzysztof Jaryczewski. It is also the abbreviation of Krzysztof's current band – Jary Oddział Zamknięty. A double album consists of 26 tracks. It came out on February 19th, 2016.
The first album is a tribute to the best period of Oddzial Zamkniety's music (their two first albums – especially the first one who became golden). 12 songs played acoustically with new arrangements can be found on this first album ('Obudź się', 'Obudź się', 'Ten wasz świat', 'Ich marzenia', 'Odmienić los', 'Tu tylko pech', 'Debiut').
The second album consists of new material, kept in old Oddział Zamkniety's convention.
Krzysztof Jarczewski, rock musician (guitarist, vocalist, composer, lyricist) born in Warsaw on February 21st, 1960. Jarzyszewski dropped out of high school in order to play bass guitar in Jurek Warzyniak's band 'Tani Hotel'. After the band broke up, Jaryszewski creaded Oddział Zamknięty band with Jarek Szlagowski (drummer). The band quickly expanded – inviting Wojtek Pogorzelski and Pawła Mścisławski to collaborate. Włodzimierz Kania joined later. The result of their collaboration was the first album titled 'Oddział Zamknięty'. The album went gold. The second album 'Eda by Night" was recorded in a different line-up: with krzysztof Zawadka, Marcin Ciempel & Michał Coganianu. The band stopped functioning because of Jaruszewski's sickness – returning years after without him.
Jaruszewski often collaborated with other artists – writing compositions and lyrics for artists such as Lady Pank, Dżem, Artur Gadowski, Wanda Kwietniewska and Timerlane.
He also recorded a number of albums outside of Odział Zamknięty (with Jary Band & Exces).
Jary Oz Płyty
1984 – "Oddział Zamknięty" – Oddział Zamknięty

1985 – "Reda nocą" – Oddział Zamknięty

1991 – "Ogniste miecze" – Jary Band

2002 – "Proste słowa" – Axe

2003 – Dopóki masz wybór" – Tu i Teraz

2003 – "GAD" – Artur Gadowski

2004 – "Winyl" – Jary Band

2008 – "EX" – Exces

2010 – "Trudno powiedzieć" – Jary Band

2016 – "Jary Oz" – JARY OZ
JARY OZ Links