Chopin Piano Concert
Saturday, September 3, 2016 at 5 pm, Copernicus Center – Annex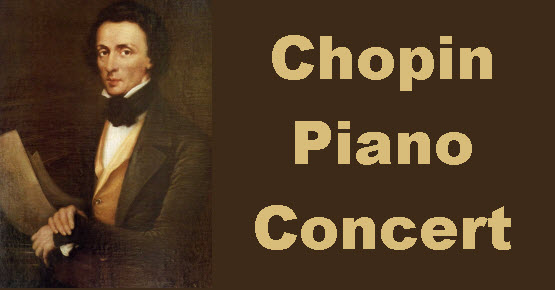 Frederic Chopin's music is recognized as one of the most important elements of Polish culture. His music has become a substantial part of the Polish tradition, and has become renowned worldwide. Every great pianist has, at some point, performed Chopin. The upcoming concert is a perfect opportunity to experience live piano music performed by the greatest students of Paderewski Academy of Music at the intimate, charming Annex of the Copernicus Center.
This Chopin Piano Concert will include some of Chopin's most beloved and popular pieces: mazurkas, polonaises, waltzes and preludes.  Join us on Saturday at 5 pm.
---
---
---
Muzyka Fryderyka Chopina  
uznana za jeden z najważniejszych elementów kultury polskiej, jest nośnikiem nie tylko wartości estetycznych, ale takze patriotycznych i narodowych. Jest przy tym najbardziej rozpoznawalną muzyką świata. Piękne, melodyjne utwory Fryderyka znajdują się w repertuarze każdego pianisty – recitale chopinowskie gromadzą zawsze tlumy sluchaczy .
Akademia Muzyki przy Paderewski Symphony Orchestra of Chicago zaprasza na koncert muzyki Fryderyka Chopina w wykonaniu młodych, utalentowanych uczniów i studentów.
W programie ulubione przez publiczność w każdym wieku preludia, mazurki i polonezy Fryderyka Chopina. Sobota, 3 września o 5 po południu, Copernicus Center – Annex.
---
---
---
O NAS – About the Paderewski Symphony Orchestra & Academy 
Akademia Muzyki przy Paderewski Symphony Orchestra zaprasza: nauka gry – skrzypce, fortepian, gitara a takze teoria muzyki, orkiestra, chor, umuzykalnienie 
Najważniejsze cele działalności PaSO I Akademii Muzki PaSO:
wzbogacanie życia kulturalnego Chicago o elementy mało znanej w USA kultury polskiej – jednej z najstarszych kultur Europy

promocja kultury polskiej w wielokulturowym spoleczeństwie amerykańskim 

edukacja artystyczna polonijnych dzieci i mlodzieży

działalność edukacyjna wsród dzieci uczacych się w szkolach polskich (współpraca ze szkołami polskimi)
Awards
Silver Gloria Artis form Ministry of Cultural Affairs of Republic of Poland,

Congress of the United States – record release of premier of "Haunted Manor" conductor Wojciech Niewrzol to the chronicles of the U.S. Congress at the request of Congressman Rahm Emanuel

Cook County Treasurer Certificate of Excellence for outstanding dedication and lasting contributions to the Polish Community,

CITIBANK "Charisma" for Outstanding Leadership.

Gold Medal and an honorary member of Armia Krajowa
H

ours
Mon – Fri: 2:00 am – 9:30 pm
Sat: 9:00 am – 7:15 pm
Contact Info
5844 N Milwaukee Ave, 
Chicago, Illinois 60646
Phone (773) 467-9000