Pop and Classical Hits by Paderewski Academy of Music
Saturday 6:30 pm
The Academy of Music of the Paderewski Symphony Orchestra will present a multifaceted program including, music, song, dance, and stunning imagery.  Discover the little known episodes of European history.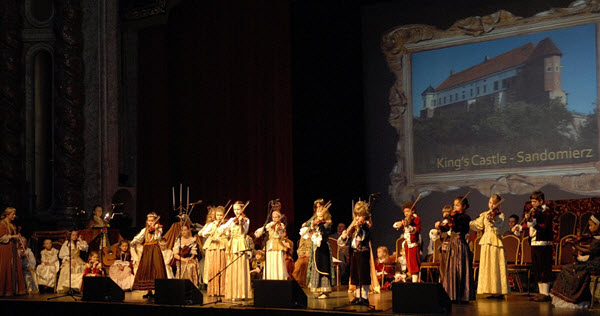 Over 1000 years of turbulent history of a country which survive thanks to its love of freedom and three fundamental values: God, Honor and Fatherland.
You will experience captivating pictures from the past Kingdom of Poland – accompanied by gorgeous, rare, and important music, song and dance.  The program travels from the Late middle Ages, Renaissance and Baroque (XVI – XVIII century) periods and presents historic performances from the parlors of Polish nobles, and the Polish royal court.
All performers – students of Paderewski Academy of Music of Chicago, age 8-16, are mostly violin players. They play and sing with accompaniment of flute, harpsichord and some small percussion instruments. Court dances are performed by soloists and group dancers wearing the colorful costumes of Polish Nobles.
The slideshow includes images of Polish castles, treasures, and Poland's natural beauty.   You will be warmed by unequaled arrays of wild fields, forests, lakes, rivers and mountains.
Time: 50'
---
Muzyka królów polskich –

Music of Polish Kings
Kostiumowe widowisko muzyczne
Tytuł "Best of the best" od widzów bibliotek publicznych Illinois.
Akademia Muzyki przy Paderewski Symphony Orchestra
Chór Akademii PaSO
Klawesyniści
Zespoły skrzypcowe
Tancerze
Historia Królestwa Polskiego opowiedziana muzyką graną na dworach polskich: od utworów anonimowych XV w. do popularnej muzyki polskiej i europejskiej XVIII wieku.
Oryginalne kostiumy według historycznych wzorów, dekoracje, rekwizyty.
Prezentacja VIDEO przedstawiająca portrety królów polskich, królewskie zamki i pałace – piękną architekturę, bogate wnętrza oraz imponującą kolekcję dzieł sztuki, klejnotów, mebli, obrazów pochodzących ze zbiorów królewskich.
---
O NAS – About the Paderewski Symphony Orchestra & Academy 
Akademia Muzyki przy Paderewski Symphony Orchestra zaprasza: nauka gry – skrzypce, fortepian, gitara a takze teoria muzyki, orkiestra, chor, umuzykalnienie 
Najważniejsze cele działalności PaSO I Akademii Muzki PaSO:
wzbogacanie życia kulturalnego Chicago o elementy mało znanej w USA kultury polskiej – jednej z najstarszych kultur Europy

promocja kultury polskiej w wielokulturowym spoleczeństwie amerykańskim 

edukacja artystyczna polonijnych dzieci i mlodzieży

działalność edukacyjna wsród dzieci uczacych się w szkolach polskich (współpraca ze szkołami polskimi)
Awards
Silver Gloria Artis form Ministry of Cultural Affairs of Republic of Poland,

Congress of the United States – record release of premier of "Haunted Manor" conductor Wojciech Niewrzol to the chronicles of the U.S. Congress at the request of Congressman Rahm Emanuel

Cook County Treasurer Certificate of Excellence for outstanding dedication and lasting contributions to the Polish Community,

CITIBANK "Charisma" for Outstanding Leadership.

Gold Medal and an honorary member of Armia Krajowa
H

ours
Mon – Fri: 2:00 am – 9:30 pm
Sat: 9:00 am – 7:15 pm
Contact Info
5844 N Milwaukee Ave, 
Chicago, Illinois 60646
Phone (773) 467-9000