Poland's Great Composers Concert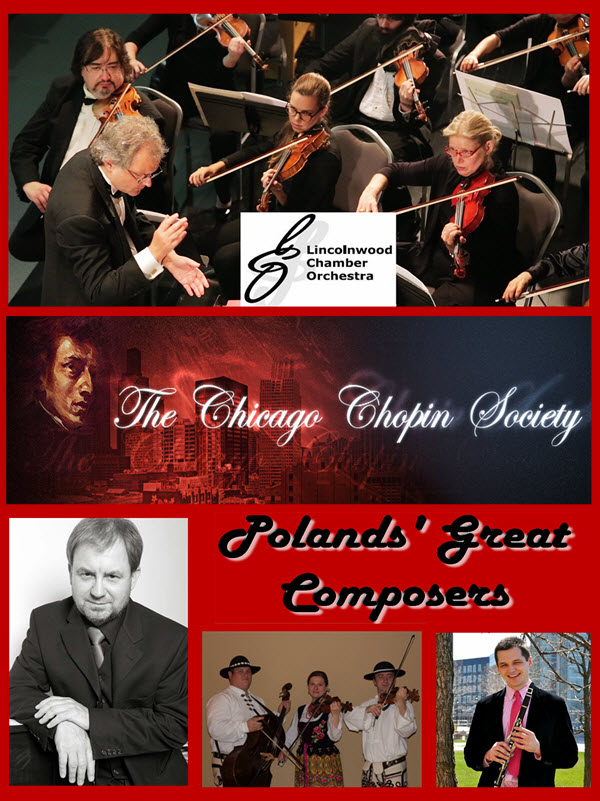 Genre:  Classical Music
Saturday, – Inside, Theater
American Music Festivals, a nonprofit committed to cultural exchange, is pleased to again present a unique program at the Taste of Polonia Festival.
This concert will be conducted by Philip Simmons and performed by the Lincolnwood Chamber Orchestra and the Chicago Chopin Society. The program also includes the world premiere of a new composition by Jaroslaw Golembiowski,  "Taniec Góralski" (Highlanders' Dance).
With guest performers: 
Konrad Pawelek, clarinet 
Bogdan Pawlikowski, violin & vocal
Monica Staszel, violin & vocal
Mateusz Staszel, cello & vocal
Poland's Great Composers Concert Program:
♪  Fryderick Chopin ~ Mazurka op. 56 No. 2 
♪  Ignacy Jan Paderewski ~ Minuet in G 
♪  Wojciech Kilar ~ Theme from the Film "The Pianist" 
♪  Moritz Moszkowski ~ Prelude and Fugue in d minor 
♪  Witold Lutoslawski ~ Five Folk Melodies
♪  Jaroslaw Golembiowski ~ Taniec Góralski (Highlanders' Dance)
Lincolnwood Chamber Orchestra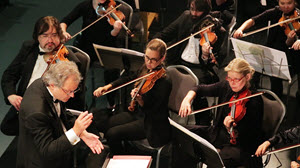 Over the last few years the Lincolnwood Chamber Orchestra has performed at the Copernicus Center in several concerts co-sponsored by the Copernicus Foundation.  These programs have included collaborations with Chicago's Polish, Bosnian and Hungarian communities.  In April 2016 American Music Festivals presented the Sir Georg Solti Memorial Festival, featuring concerts by both the Lincolnwood Chamber Orchestra and Chicago Pro Music in which many musicians from the Chicago Symphony Orchestra participated.
Philip Simmons is the Artistic Director of American Music Festivals.  He has conducted in twenty countries, performing at Carnegie Hall, Chicago Symphony Center, the Musikverein, Saint Petersburg's Philharmonic Hall, and the Great Hall of the Tchaikovsky Conservatory.  Mr. Simmons is the Founder and Music Director of the Lincolnwood Chamber Orchestra, and Resident Conductor of the Orchestra of the Hawaiian Islands.  He has conducted dozens of concerts at the Copernicus Center, including performances with the LCO, Lake Shore Symphony, and on the Chicago Summer Silent Film Festival.
Chicago Chopin Society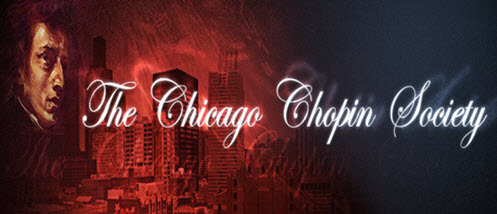 Frederick Chopin is regarded as one of the greatest influences that pulsated beauty, life and triumph into the Polish people. Known as the poet of the piano, he put into notes that which could not be expressed into words: the sentiments of a great nation recounted graciously by a grand soul. Chopin remains a constant source of pride and inspiration for Poles around the globe, from Warsaw to Chicago.
It is this very inspiration that led acclaimed Polish composer Jarosław Gołembiowski to pursue establishing a venue in which Polish musicians could be celebrated and given a chance to build blossoming careers.  A graduate of the Karol Lipinski Academy of Music in Wroclaw, and Frederik Chopin Music University in Warsaw, Poland, Gołembiowski founded the Chicago Chopin Society, an organization with a mission to actively support and promote Polish composers, artists, and artistic organizations. Now celebrating over a decade, the Chicago Chopin Society has already left its mark on the Chicago, with years of beautifully dignified concerts and festivals.
WORLD PREMIERE:  "Taniec Góralski" – Highlanders' Dance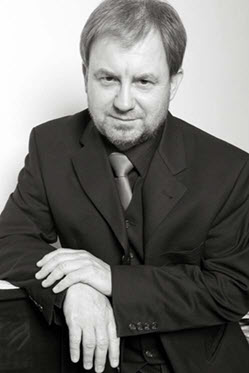 Jarosław Gołembiowski 's "Taniec Góralski" (Highlanders' Dance) is scored for string ensemble of: violins, violas, cellos and bass, and lasts for 12 minutes.  This dance is a musical paraphrase derived from the popular Highlanders song "Pobili się dwaj górale."  Its text deals with two highlanders fighting with ciupaga (carved wooden canes) over a maiden.  In the chorus sections, they are strongly advised not to fight anymore because the girl has two of everything (including the braids of her hair), so they can share.  The fighting and advice goes on.
Highlanders' Dance is based on many elements of Highlanders music. They include open fifths, ostinato base, the pentatonic scale (taken from the first five notes of the major scale with characteristic fourth step raised; B flat c d e f), dialogue between soloist and chorus, and grace notes. Highlanders' Dance also subtitled Mountains' Memory is essentially divided into two sections, mark in the score Moderato and Allegro-however each section has its own formal divisions. The theme in its original version doesn't really appear in this composition. However the listener will be easily taken by the characteristic melodic and rhythmic motives taken from the original.
---
Poland's Great Composers Concert SPONSORS:
Click logos to visit their websites. 🙂
---
American Music Festivals WEBSITE 
Chicago Chopin Society WEBSITE  ~  FACEBOOK
Lincolnwood Chamber Orchestra FACEBOOK