Nasze Piosenki
Paderewski Symphony Orchestra i Copernicus Center zapraszają do wspόlnego śpiewania!
The Paderewski Symphony Orchestra will conduct a sing-along & singing lessons in the theater. (in Polish)
KONCERT p.t. "Nasze piosenki" … lekcja śpiewania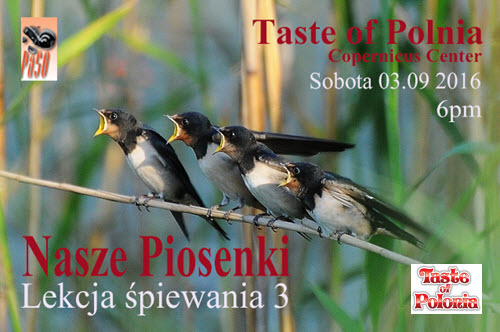 z udziałem Artystόw – śpiewakόw, aktorόw, muzykόw i PUBLICZNOŚCI
Sobota, 09.03.2016, 6:30pm
Copernicus Center, teatr
NASZE piosenki – towarzyskie, ogniskowe, biesiadne, harcerskie, studenckie, wojskowe, wojenne, powstańcze, ułańskie, turystyczne, partyzanckie, szkolne, ludowe, tradycyjne, narodowe – tysiące piosenek w naszym domowym śpiewniku!
Śpiewajmy więc! – gdy tylko mamy okazję, zgodnie z arcysłuszną zasadą "śpiewać każdy może", a – żeby nasz wspόlny śpiew brzmiał pięknie – przypomnijmy melodie i teksty, poćwiczmy refreny i zwrotki.
W najbliższej edycji koncertu "Nasze piosenki" zaśpiewamy ulubione tytuły do śpiewania w każdym gronie:
m. in. "Białe Rόże", "Hej Sokoły!", "Hej, hej, Ułani!", "Kadrόwka", "Piechota", "Przybyli ułani", "Pałacyk Michla", "Upływa szybko życie", "Więc pijmy wino, szwoleżerowie" oraz wiele innych. Zapraszamy!
---
This Sing-along and lesson will be conducted in Polish.  All are invited to listen or join in.  The provided song books will also be in Polish.  Give it a try, you may hear some of the songs your grandparents sang.