Püdelsi comes to the festival all the way from Krakow, Poland.   This alternative hard rock group brings a unique musical treat to the Taste of Polonia 2014.  PUDELSI will perform on two nights, Friday and Sunday. 
→ PUDELSI
→ KONCERT ODWOLANY. Kliknij tutaj po wiecej szczegolow.
→ SHOW CANCELLED. Click here for more details.
→ DATE: Friday, August 29, 2014
→ TIME: 9 pm
→ DATE: Sunday, August 31, 2014
→ TIME: 7:30 pm
→ STAGE: World Music Stage
Genre:  Alternative Rock – PsycoPop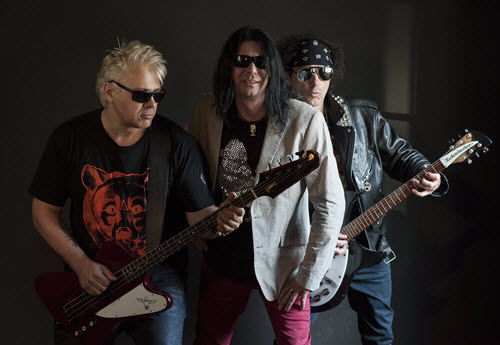 Pudelsi Band Members:
Andrzej "Pudel" Bieniasz – guitar

Franz Dreadhunter – bass guitar

Piotr Foreman Foryś (singer) – vocal

Dario Litwińczuk – guitar

Adam Drzewiecki – keyboards
PÜDELSI HISTORIA
Zespół PÜDELSI powstał w 1985 roku w Krakowie.
Podstawowy skład stanowili muzycy związani z zespołem DÜPĄ pod kierownictwem Andrzeja PÜDLA Bieniasza, który po samobójczej śmierci lidera zespołu DÜPĄ – Piotra Marka postanowił kontynuować dzieło Mistrza wraz z kolegami pod nazwą PÜDELSI.
W pierwszym składzie oprócz PÜDLA pojawiły się takie znakomitości jak: Franz DREADHUNTER, Andrzej Potoczek, Maciej Kowalik, Maciej Biedrzycki, Paweł Mąciwoda oraz wokalista David Rocks.
Znaczącym sukcesem zespołu była nagroda na Festiwalu w Jarocinie w 1986 roku z wokalistą Przemysławem Trębaczem.
W 1987 zespół przystąpił do rejestracji swojej pierwszej płyty BELA PUPA z KORĄ (MAANAM)
i Maciejem Maleńczukiem.
Po kilkuletniej przerwie PÜDELSI zarejestrowali trzy płyty:
VIRIBUS UNITIS (1996), NARODZINY ZBIGNIEWA (1997) i PSYCHOPOP (1999) – przy realizacji której, wziął udział m.in. Olaf Deriglasoff.
Po raz kolejny zespół zawiesił działalność w 2000 roku.
W 2001 roku Andrzej PÜDEL Bieniasz i Franz DREADHUNTER wznawiają działalność zespołu. Do współpracy zapraszają wokalistę Macieja Miecznikowskiego, z którym przygotowują płytę o roboczym tytule POPARTE.
Z różnych przyczyn płyta nie ukazuje się na rynku.
W 2002 roku do zespołu ponownie zostaje zaproszony Maciej Maleńczuk.
PÜDEL, FRANZ i MACIEK tworzą spółkę autorską i w 2003 roku prezentują płytę WOLNOŚĆ SŁOWA (2003),
która zostaje doceniona przez odbiorców i zdobywa status Złotej Płyty a łączny nakład z dodatkami przekracza pół miliona egzemplarzy.
W 2003 roku ukazuje się płyta z największymi przebojami zespołu:
LEGENDARNI PÜDELSI 1986 -2004 – JASNA STRONA.
Na płycie tej umieszczona zostaje jedna piosenka premierowa: DAWNA DZIEWCZYNO, za którą PÜDELSI otrzymują w Opolu nagrodę Polskiego Radia.
W 2005 roku Maciej Maleńczuk wybiera karierę solową a nowym wokalistą w zespole PÜDELSI zostaje Szymon Goldberg, z którym zostały wydane dwie płyty: ZEN (2006) i MADAME CASTRO (2008).
W 2010 roku PÜDELSI zmieniają wokalistę i nowym frontmanem zostaje Piotr Foreman.
Pudelsi History
The group PUDELSI was formed in 1985 in Cracow. Originally, the group included the musicians connected with the group DÜPĄ under the leadership of Andrzej PÜDEL Bieniasz who, after a suicide of DÜPĄ leader – Piotr Marek, decided to continue his Master's work together with his colleagues and formed the group PÜDELSI.
At the beginning , apart from PÜDEL, the group included such fantastic musicians as: Franz DREADHUNTER, Andrzej Potoczek, Maciej Kowalik, Maciej Biedrzycki, Paweł Mąciwoda and a vocalist David Rocks. One of the most significant successes of the group was a prize received at the festival in Jarocin in 1986 with the vocalist Przemysław Trębacz.
In 1987 the group began working on their first record BELA PUPA with Kora /MAANAM/ and Maciej Maleńczuk.
After a few years' break they released three records: VIRIBUS UNITIS /1996/, NARODZINY ZBIGNIEWA /1997/, PSYCHOPOP /1999/ – Olaf Deriglasoff took part in recording it.
In 2000 the group suspended their activity again. In 2001 Andrzej PÜDEL Bieniasz and Franz DREADHUNTER revived the group. They invited a vocalist Maciej Miecznikowski, with whom they prepared a record with a working title POPARTE. For various reasons the record was never released.
In 2002 Maciej Maleńczuk was invited to the group again. Püdel, Franz and Maciej entered the partnership and in 2003 presented the record WOLNOŚĆ SŁOWA /2003/, which was widely appreciated and became gold record, with the total edition of over 500,000 copies.
In 2003 appeared a record with the greatest hits of the group: LEGENDARNI PÜDELSI 1986 – 2004 – JASNA STRONA. The record contains one premiere song DAWNA DZIEWCZYNO, for which the group received the prize of the Polish Radio in Opole.
In 2005 Maciej Maleńczuk chose his solo career and Szymon Goldberg became a new vocalist of the group, with whom they released two albums: ZEN /2006/ and MADAME CASTRO /2008/.
In 2010 PUDELSI changed their vocalist and Piotr Foreman became a new frontman.