Autofobia is our favorite Punk Rock influenced Polish band from Chicago.  Back for another year's festival performance in 2014, we're sure they'll make all the punk rockers VERY happy.
→ Autofobia
→ DATE: Sunday, August 31, 2014
→ TIME: 9:30 pm
→ STAGE: World Music Stage
Genre:  Punk rock, Alternative
According to the band, their major influences are anything punk or alternative… and lots of beer.
Autofobia Band Members:
Genre punk / alternative

Members Adam Masztak – Guitar 

Marek Bardo – Bass 

Teo Jarszak – Guitar + vocals

Szymon Grych – Drums 

Grzegorz Wielgat – Vocals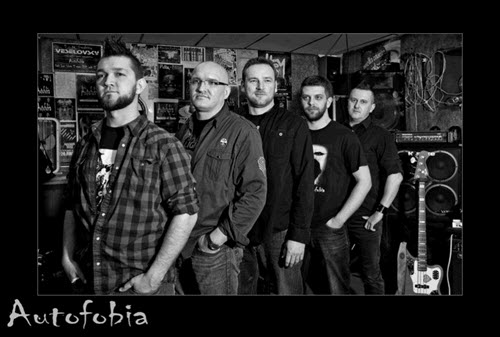 Biography
Wszystko zaczelo sie podczas mroznej, zimowej nocy roku 1999. Siedzac przy piwie, Adam i Grzesiek, zostali nagle oswieceni. W zwiazku z ich dlugoletnia pasja do muzyki rockowej jak rowniez mozolnym wysilkiem jaki wlozyli w swoje male jam-sessions, zdecydowali sie na desperacki krok jakim bylo publiczne ujawnienie swoich talentow tudziez nie najgorszych aparycji. Mimo blyskotliwej decyzji, sama realizacja pomyslu nie nalezala do latwych. Duzo bardziej proste okazalo sie znalezienie perkusji niz samego perkusisty. Po dlugich poszukiwaniach, zupelnie niespodziewanie na biwaku w Wisconsin z okazji Labor Day 2000, zostal odkryty Marek, ktory towarzyszy zespolowi do dzis. W tym samym owocnym okresie do zespolu dolaczyl znany i lubiany przyjaciel z lat mlodosci, Axel, grajacy na basie. Po dwumiesiecznej charowie wspomiany basman opuscil kapele by zaszyc sie w zaciszu domowego ciepla a na jego miejsce przybyl nikomu bardziej nie znany Pawel D. Tak zaistniala Autophobia. W tym skladzie, zespspol gral okraglutkich dwanascie miesiaczkow az do momentu rozstania sie z Pawlem D. Znow pojawil sie problem w formie braku basisty, ktory rozwiazal sie blyskawicznie wraz z pojawieniem sie Piotrka J. w lutym 2002. Jak by szczescia bylo malo wraz z nim, do kapeli trafil Pawel Sz. ktego umiejetnosci gitarowe pozbawily dotychczasowego leadera, Grzegorza, jednej z dwoch funkcji jakie pelnil dotychczas w zespole. Ku swojej uciesze, Gregi mogl w koncu poswiecic sie calkowicie vocalowi. Z odejsciem basisty Pawla D. w grudniu 2001, zmienila sie pisowia nazwy zespolu. W tym skladzie zespol gral az do marca 2003 kiedy to z kapeli oszedl Pawel Sz., a pol roku pozniej Piotr J.
Jak to sie mowi nie ma tego zlego co by na dobre nie wyszlo, tak wiec w styczniu 2004 dolaczyl do skladu Teo J. Niestety Teo – ktory jest liderem kapeli VESELOVSKY – opuscil zespol na jesien 2006. W tym samym roku na miejsce Teo przyszedl Ryan K. a w krotce po nim dolaczyl wczesniej juz wspomniany Pawel Sz. W tym skladzie zaspol przetrwal 3 lata.
W 2009 kapela przeszla przez nastepna zmiane w skladzie i rolach w zespole. Wrocil Teo, tym razem zlapal za gitare, za bebenkami usiadl Szymon a Marek zakochal sie w gitarze basowej.
W takim doborowym towarzystwie, przy odrobinie szczescia, mozecie uslyszec i obejrzec zespol AUTOFOBIA na najrozmaitszych koncertach.