Teatrzyk kukiełkowy – A puppet theater story of Hansel & Gretel will be performed in Polish. 
→ Teatrzyk kukiełkowy
→ DATE: Saturday, August 30, 2014
→ TIME: 3:45 pm
→ STAGE: Krakus Kids & DJs Stage
LANGUAGE:  For Polish Speaking Audience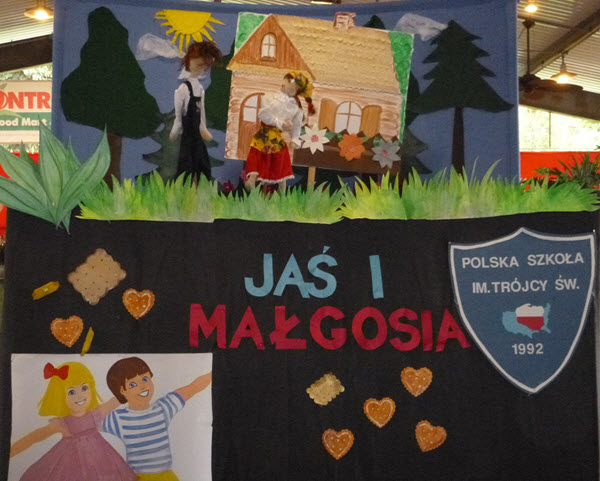 Jaś i Małgosia [Hansel & Gretel] – music fairy tale by Jan Brzechwa. This puppet theater show will be performed by the teachers of Polska Szkola im. Trojcy Swietej, a local Chicago Polish school.
Holy Trinity Polish School ( Polska Szkoła im. Trójcy Świętej) is a part of Holy Trinity Polish Mission, one of the oldest churches in Chicago and a key stop for Chicago visitors. More than four hundred students, ages three to eighteen, attend our school each year.
Polish Saturday school educates children about our culture, history, and religion. In addition, our school teaches the Polish language and helps to shape these children into respectful and motivated citizens.
For more information contact School Principal Maria Baran (312) 929-9901 or [email protected]
O NAS
Co przedstawiacie?
Bajkę "Jaś i Małgosia"- jedną z repertuaru naszego Teatrzyku Kukiełkowego. Przedstawienie jest oczywiście dla dzieci, a aktorzy to nauczyciele z Polskiej Szkoły im. Trójcy Św. w Chicago.
Dlaczego taki teatrzyk?
Poprzez kukiełki kreujemy u małych widzów fantazję, bo wszystko, co dziś otacza dzieci dookoła to elektroniczne zabawki i komputerowo opracowane bajki, które swoją "dokładnością" ruchu i mimiki "zabijają" wyobraźnię.
Skąd pomysł?
Z potrzeby serca. A może z chęci powrotu do własnego dzieciństwa i świata baśni, kiedy to rodzice prowadzili młodego widza do teatru.
Entuzjazm?
Dobry nauczyciel powinien być nim zarażony. I my to mamy. Praca w polskiej szkole to dla nas przyjemność, dlatego wystarcza jeszcze chęci na zajęcia dodatkowe.
Jak się o tym przekonać?
Zapoznać się z ofertą szkoły na Trójcowie, a na nasza dewiza, że uczyć trzeba się jak wszędzie, ale super ci tu będzie, na pewno okaże się godna zaufania. Łatwo się o tym przekonać, dzwoniąc do kierownika szkoły Marii Baran (312) 929-9901.