Usual Chaos is a new band to the Taste of Polonia Festival in 2014.  This young band is BLASTING into popularity and plays rock, pop, and country.
→ BAND:  Usual Chaos
→ DATE:  Saturday, August 30, 2014
→ TIME:  4 pm
→ STAGE:  Tribute Stage
GENRE:  Rock, Pop, and Country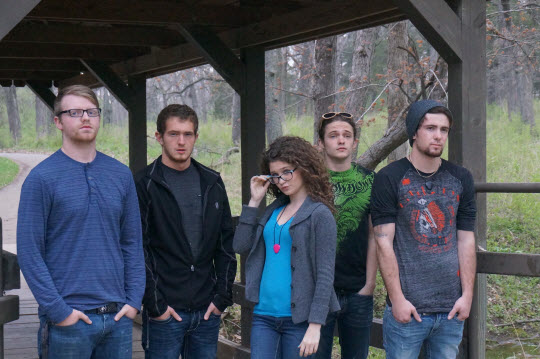 Since inception in 2011, Usual Chaos has evolved quickly into mature talented performers. Their bookings and fan base are ever increasing. Their first EP was released June 28th, 2013, at Bourbonnais Friendship Festival.
Usual Chaos from the Kankakee IL area plays rock, pop and country. Their main gigs consist of fairs and festivals, playing a wide variety of music, something for everyone.
Their story started six years ago when brothers, Brett and Tyler, started playing the drums and guitar. They realized a singer would need to be added next. Brett went to the local music store and placed a single yellow sticky note "Singer Wanted, Call." Stephan found the note and called. From there Stephan sang and played the bass guitar and the band was formed.

They played house parties for the next two years, until a local Battle of the Bands. They knew several bands from the area would be entering and felt confident they could win, but to better the odds, Stephan asked his sister, Sophia, 13 at the time, to join them. They won the battle, and Sophia was discovered, they finished out the summer being asked to play at some very exciting venues including opening for Crossin Dixen and Jason Michael Carroll.

Since then, the band has continued to play in venues in Illinois and Milwaukee. Added bass player, Devon, and recently opened for a Billy Currington concert. They have consistently been asked back to several festivals year after year.
Stephan, Sophia and Brett write the original music for the band, and released their first EP last June. They are currently working on new material for an album. Take a minute to check out the video below. Do you want to take a guess at the lead singer's age?  → She just turned 16 for that demo.  See them Saturday, August 30th from 4 to 5:30 pm.

Sophia Menigoz – Vocals
Stephan Menigoz – Vocals/Guitar
Brett Ferris – Guitar
Tyler Ferris – Drums
Devon White – Bass
Sample Set List
My Kinda Party    Price Tag    Hot N Cold   All I Wanna Know-original    Rolling In the Deep    Johnny B Goode
Drops of Jupiter    Dani California   Rock'n Me Baby   Undo    It I'm Yours    Use Somebody  Superman-original
Hard to Handle  Stronger   Taken Care of Business    Hit Me with Your Best Shot    Trouble   You'll think of Me Can You Hear Me-original    We Are Young   Stoned-original   Someone Like You    Sweet Child O Mine    Pumped Up Kicks   The Middle   Knocking On Heavens Door   That's The Way I Like It   Talk Dirty To Me    Dance-original  Brown Eyed Girl    First Date  Try Us Again-original    Joker    What was I Thinkn   Gone    All about Tonight    Firework  Tag-original   Shake it for Me   Too Close  Learn to Love Again   Sweet Home Alabama   Any Way you want It