Wishing Well opened for the Ich Troje concert at Copernicus and wooed the crowd.  We're happy to have them back for the 2014 Taste of Polonia Festival.
Wishing Well Band
→ DATE: Saturday, August 30, 2014
→ TIME: 5:45 pm
→ STAGE: World Music Stage
GENRE:  Funk, Soul, Reggae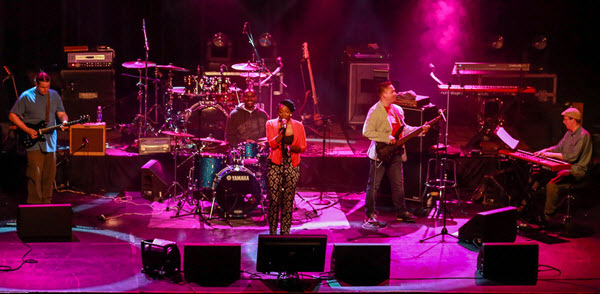 A fusion band originating from the Northwest side of Chicago. They love to play funk, soul, reggae and more.
Band Members:
Derin Adeyemo – Lead singer
Mark Florence – Guitar
Sergiusz "Sergio" Zgrzebski – Bass
Jonathan Beverly- Drums
ABOUT THE BAND
Wishing Well was born from the musical chemistry of Sergiusz Zgrzebski, Mark Florence and Jonathan Beverly. The trio eventually found the wonderfully talented Derin Adeyemo and Asia Roberson to share duties of lead vocals backed by a revolving cast of extremely gifted keyboard players including Chicago's very own Bill Cessna! The band explores a variety of popular music from the last 50 years adding their own spin along the way. They bring a fusion of reggae, soul, funk, jazz and blues with a big focus on improvisation and letting the music take on a life of its own.
Come catch them perform at a variety of venues around Chicago! In past Wishing Well performed in places and venues such as Toyota Park, Jeff Fest, Chopin Theater, Abbey Pub, Dock at Montrose Beach and many more. You can also check out members of the band performing at other projects around Chicago such as Kings in Waiting, Trees, Nola Ade, Room 11, JD's Revenge, DJ Sergio and more!!
________________________________
Zespol Wishing Well powstal ze scenicznie chemii jaka tworza basista Sergiusz Zgrzebski, gitarzysta Mark Florence oraz perkusita Jonathan Beverly. Po miesiacach poszukiwan obowiazki wokalistek zaczely pelnic Derin Adeyemo i Asia Roberson, ich talent dopelniany przez najlepszych pianistow Wietrznego Miasta, w tym, wystepujacy w skladzie Wishing Well w sezonie 2014 Bill Cessna. Wishing Well wykonuje bogaty przekroj najwiekszych hitow muzyki rozrywkowej ostatnich 50 lat, prezentujac jedyna w swoim rodzaju mieszanke stylow jak reggae, soul, funk, jazz i blues, z naciskiem na improwizacje i ciagle odnawianie standardow. Wishing Well posluchac mozna w Wielu miejscach Chicago. Toyota Park, Jeff Fest, Chopin Theater, Abbey Pub czy Dock at Montrose Beach – to tylko wybrane sceny, na ktorych gral Wishing Well. Zapraszamy do zapoznania sie z pozostalymi projektami muzykow tworzacych Wishing Well jak Kings in Waiting, Trees, Nola Ade, Room 11, JD's Revenge czy DJ Sergio