Biesiada z piosenka biesiadna
BIESIADA z "biesiadna" to wspaniala okazja do wspolnego spiewania i wspominania, na ktora zapraszaja WARSZTATY TEATRALNE i AGATA PALECZNY !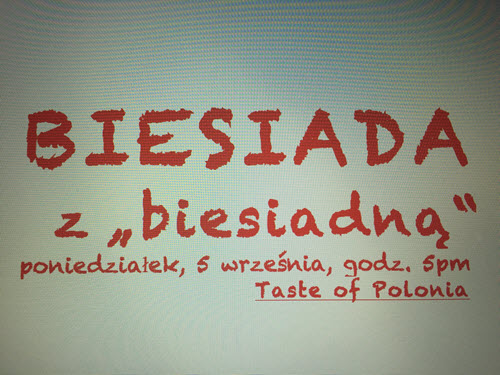 Piosenki, ktore spiewalismy wszysycy na koloniach, harcerskich obozach, babskich spotkaniach, wieczorach kawalerskich, w autobusach wycieczkowych…
Spiewali je nasi dziadkowie, rodzice… a teraz specjalnie dla panstwa i z PANSTWEM zaspiewamy je my – najstarsza, dorosla grupa Warsztatow Teatralnych, czyli RYCZACE CZTERDZIESTKI !
Wystapia :
Agata Paleczny, Anna Folwarska, Agnieszka Sarrafian, Iwona Szewczyk, Katarzyna Zytkiewicz, Kuba Sacha, Jacek Pawlina
keybord: Bartek Ciezobka
akordeon: Marek Lichota
gitara: Michal Szaflarski
Bedzie m.in: … Zloty Pierscionek, Gdybym mial gitare, Zabrales serce moje, Szla dzieweczka, Miala baba koguta, Uplywa szybko zycie …itd.
Teskty wyswietlane na ekranie pomoga wam odswiezyc pamiec 🙂
Z A P R A S Z A M Y !!!!
Poniedzialek, 5 wrzesnia o godz. 5:00 po poludniu, Copernicus Center, scena w teatrze
DO ZOBACZENIA !!!!!
Polish folk and whimsical sing-along 
Cordially inviting everyone to Copernicus Center for the afternoon with unforgettable songs prepared by Little Stars Theater and Agata Paleczny. We will sing, remember the past and warm your hearts with such a folk hits as " You took my heart away" or lyrical "Ball at Gnojna Street ". There is nothing which says " farewell summer, so long " better than singing together . We all remember all those tunes we used sing many years ago by the fire, at summer camps of our youth, bachelor parties or simply on the buses taking us to yet another August's adventures decades ago. Your grandparents, parents and us sang them, now it is time to do it together with You! We will do so with the oldest installment of our Theater Workshop: Agata Paleczny, Anna Folwarska, Iwona Szewczyk, Kasia Zytkiewicz, Jacek Maryla Pawlina, Kuba Sacha, Aga Sarrafian.
Keyboard: Bartek K Ciężobka
Accordion: Marek Lichota
Guitar: Michal Szaflarski
Please come and sing with us!
Copernicus Center, Inside Theater Stage, Monday September 5th at 5 PM.