We're happy to have Rick back in the line-up for the 2014 Festival.  Rick as Elvis has always been a favorite with our Taste of Polonia festival guests.
→ BAND:  Rick Saucedo as ELVIS
→ DATE: Sunday, August 31, 2014
→ TIME:  4 pm
→ STAGE:  Tribute Stage
GENRE:  Pop, Classic Rock
Rick Saucedo is a Chicago-based singer, songwriter, musician, actor, Elvis Presley tribut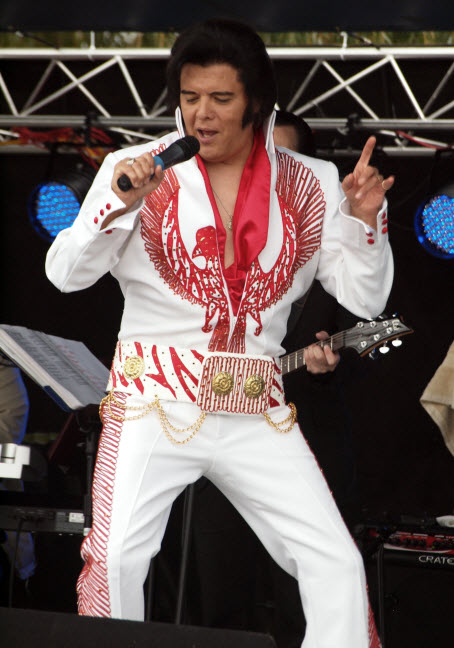 e artist, John Lennon tribute artist, and Paul McCartney tribute artist. Rick has been performing on stage since he started his junior high British Invasion band in the '60s. In 1972, one particular song by Elvis Presley caught his attention. It was "Burning Love", which became the main catalyst for Saucedo in launching a career in tribute to Elvis Presley. At the age of seventeen, Saucedo began performing as Elvis in nightclubs and bars around Chicago. Upon joining The Ambassadors, Saucedo landed the role of Elvis in the 1978 Broadway musical Elvis – The Legend Lives – which featured Elvis' drummer DJ Fontana, and his backup vocalists The Jordanaires. The show then had a spinoff at the Stardust in Las Vegas through 1979. Into the 1980's, Rick also joined The Meteors and formed a rock band of his own called Redwing – all while balancing his Elvis tribute act. He has not stopped ever since.
From Las Vegas to New York, Canada to Aruba, and even Europe, Rick Saucedo has performed and is still considered by many as one of the most authentic tributes to Elvis. Many Elvis tribute artists, including some of the current generation's top Elvis acts, have cited Rick as a direct influence in their performances. Saucedo's accomplishments and longevity in the industry over the last 40 years have earned him numerous awards and extensive recognition, including appearances with Dick Clark, Geraldo Rivera, and many more television personalities. He has earned two Lifetime Achievement Awards – one from Heart Of The King at the Las Vegas Hilton on the same stage Elvis himself performed on, and most recently, a prestigious award from the Chicago Music Awards. In 2011, Rick was the first inductee into the Elvis Entertainers Network Hall of Fame.
In addition to his Elvis tribute, Rick is an original songwriter who has written nearly 100 songs and released numerous albums and singles since 1978 from vinyl to digital download. Rick's original material is heavily inspired by rockabilly, the blues, and the British sounds of the Beatles, Rolling Stones, and Dave Clark Five. He has played guitar, bass, drums, sitar, piano, and more on his recordings. Saucedo's 1978 psychedelic acid rock album, Heaven Was Blue, is a cult sensation throughout the world with a strong following. Original vinyl pressings of the album are highly valuable and sought after globally. Rick's Elvis-inspired material has also been very successful, including his 1978 hit on Broadway: "The Legend Lives On", plus 1999's "Memphis, I'm Coming Home". Rick's songbook is available for downloadable purchase on iTunes, Amazon.com, and cdBaby.
Today, Rick continues to perform weekly throughout the Midwest. For smaller venues, he performs with authentic, state-of-the-art professional backing tracks. For larger venues and festivals, Rick performs with a full band. Fans can follow Rick on Facebook or visit his website, www.ricksaucedo.com, for the latest.
Contact Info:
Terri Saucedo (630) 562-2050
[email protected]