Whispers Center for Artistic Expression is a nonprofit dedicated to educate and inspire students through the arts. We look forward to their dance performance on the Inside Stage.
Whispers Dance Ensemble – Szepty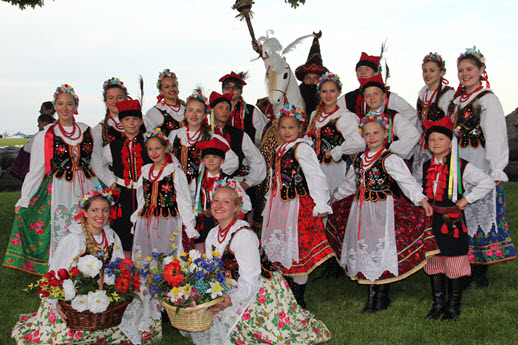 HOT ZORBA, SWING… WALTZ… KRAKOWIAK….
Possibly even The Wawel Dragon………
BESKIDIAN jumps, hops and other tricks !

Performed by dance ensemble of Whispers Center for Artistic Expression, from Northwest Suburbs of Chicago!
Please come and enjoy our Whispers of the music, Whispers of tradition and our Whispers Center for Artistic Expression!
_________________
GORĄCE  RYTMY ZORBY, SWING… WALC… KRAKOWIAK…. Być moze nawet  Smok Wawelski ……….. BESKIDZKIE skoki, przeskoki oraz meskie popisy !!!
Wykona grupa taneczna z Centrum Expresji Artystycznej  "Szepty" działająca na północno- zachodnich przedmieściach Chicago!
Zapraszamy do obejrzenia naszego programu!  Posłuchaj Szeptów  muzyki, obejrzyj Szepty tradycji,  poznaj "Szepty"- Centrum Artystycznej Ekspresji!
____________________________________
Whispers Center for Artistic Expression "Szepty"   from the Northwest Suburbs of Chicago is a dance ensemble returning to the Taste of Polonia Festival in 2015. Our mature, talented performers however, have been entertaining the audience exposing them to Polish heritage for the past 16 years.
Whispers Center for Artistic Expression "Szepty" in its name holds the subtle nature of how art of any form, but especially the dance, has begun. It is through the whispers of music which touches the heart of one person, that movement is born and extends itself to others in the form of the dance choreography, transferring its energy onto the audience. It is with this understanding that we wish to teach our children and youth to fall in love with the dance, have fun learning their heritage and enjoy being on the stage to bring joy to others.
Under artistic direction of the experienced choreographer Margaret Skrzypkowski our children and young adults are learning traditional folk and national Polish dances, American country, lyrical and occasionally modern dance. Under the direction of Jakub Zajaczkowski Swing Cats of Whispers developed very popular and always gaining a lot of applause "Hit the Road Jack" swing, which we will present at Taste of Polonia this year.  To tap it all we could not ignore one of the most important traditions of Polish culture which is singing while dancing.  Our singing repertoire although a little scarce, slowly comes back to life with the long time singing teacher Eliza Idec, who is  back to our group coaching and developing the vocal talent of the youth.
The major purpose of the Whispers Center is to inspire students to explore their heritage through the beauty of Polish dancing and singing, as well as many other forms of artistic expression. At the same time we wish to teach young generations to be sensitive to the expression of feelings, to teach our students to share their experiences and humanity by using art to provide good deeds, bring smiles, comfort or happiness, working together and be generous with understanding that receiving comes from giving.
Whispers Center for Artistic Expression "Szepty" Is active in supporting other non-profit organizations such as  Single Mother House, by performing at their fundraisers, as well as  Monika Skrzypkowski Scholarship Fund through performing with other dance ensembles of different origins and individual artists presenting special concert, Tomorrow Begins Yesterday  this October 11th , at Prairie Center for the Arts in Schaumburg.
More information to come through our Facebook Page and through Scholarship Page. 
NEED MORE INFORMATION?
Refer to our Links:   Facebook Page  ~  YouTube
Contact us via e-mail: [email protected], via Facebook, or call:
EWA TYRAWA     630-915-8843       OR    MARGARET SKRZYPKOWSKI    847-788-1114
---
O NAS

 
Centrum Expresji Artystycznej "Szepty" z północno-zachodnich przedmieść Chicago ma zaszczyt po raz kolejny wystąpić na festiwalu Taste of Polonia! Jesteśmy tylko na pozór młodą grupą. Wiȩkszość naszych członków to wieloletni wychowankowie obecnego choreografa centrum, Małgorzaty Skrzypkowskiej oraz prowadzonego pod jej kierownictwem artystycznym przez ponad 16 lat zespołu Polanie.  Pełni optymizmu i swieżej energii kontynuujemy działalność prezentując nasz program na festiwalach, nie tylko polonijnych, wspieramy działalność charytatywną wielu organizacji, dystryktów szkolnych oraz grup związkowych.  
Zespół taneczny Centrum Expresjii Artystycznej "Szepty" koncertuje nie tylko w stanie Illinois, ale również w Wisconsin, a nasze plany siȩgaja po Europȩ w roku przyszłym. 
Centrum Expresji Artystycznej "Szepty"  to nazwa subtelnie sugerująca, że  narodziny jakiejkowiek sztuki, a w szczególności tańca, rozpoczyna muza; szept muzyki, poruszającej serce jednej osoby, która ten szept przekształca  w choreografiȩ, a ta przeniesiona na scenȩ swoją energią oddziałowuje na widzów. Z takim założeniem przekazujemy naszym tancerzom zamiłowanie do sztuki i polskich tradycji i tańca, wywołując jednocześnie uśmiech i radość widzów.
Pod kierownictwem artystycznym Małgorzaty Skrzypkowskiej nasza młodzież i dzieci poznają rożne formy tańca w tym polskiego tańca folklorystycznego, narodowego, stylizowanego jak również amerykańskiego country oraz tańca lirycznego i nowoczesnego. Pod okiem choreografa Jakuba Zajączkowskiego  grupa Swing Cats of Whispers  poznaje popularnego amerykańskiego swinga "Hit the Road Jack".  Spiew jest również nieodłączną czȩścią naszego Centrum i tutaj swoim talentem służy nam Eliza Idec, która po przerwie powróciła do nas by wznowić kształcenie wokalne grupy.
 Centrum Expresji Artystycznej "Szepty"   inspiruje tancerzy do poznawania polskiej kultury, uczy dzieci i młodzież wrażliwości na muzyke, emocje i uczucia. Poprzez udział w koncertach-akcjach mających na celu wsparcie tych, którym potrzebny jest uśmiech i przysłowiowe "podanie rȩki" razem pracuje dla osiagniȩcia wspólnego celu.  Dzielenie siȩ z innymi talentem, uSmiechem i troską uczy szczodrości i bezinteresowności, co daje w zamian najwiȩkszą satysfakcjȩ. 
ZAPRASZAMY… 
Centrum Expresji Artystycznej "Szepty"  jest współorganizatorem dorocznego Koncertu Stypendialnego Fundacji Pamiȩci Moniki Skrzypkowskiej, z którego fundacja przyznaje stypendia dla uczniów  również polskiego pochodzenia. Od  kilku lat wystȩpujemy wspólnie z innymi zespołami tanecznymi i muzycznymi różnych narodowości oraz indywidualnymi artystami.
Serdecznie  zapraszamy w niedziele 11-go października br. do Prairie Center for the Arts w mieście Schaumburg, na koncert zatytułowany "Jutro zaczyna się wczoraj".
Informacje pojawią sie wkrótce na naszej stronie:  Facebook lub Monika-Skrzypkowski-Memorial-Scholarship-Fund
Wspieramy rowniez inne organizacje charytatywne jak Dom Samotnej Matki przez udzial w imprezach na rzecz tych organizacji
CHCESZ ZAPISAĆ SIĘ DO CENTRUM "SZEPTY" LUB ZAMOWIĆ WYSTEP?
Kontakt: [email protected],  Ewa Tyrawa   630-915-8843  LUB Margaret Skrzypkowski    847-788-1114
POTRZEBUJESZ WIECEJ INFORMACJI
WEBSITE  ~~  FACEBOOK  ~~ YOUTUBE
http://youtu.be/Qb3MbPia8G4  Krakowiak – Milwaukee Polish Fest 2014 –PFDAA Gala
http://youtu.be/jFkyhiTScdI  Polonez – Milwaukee Polish Fest 2014